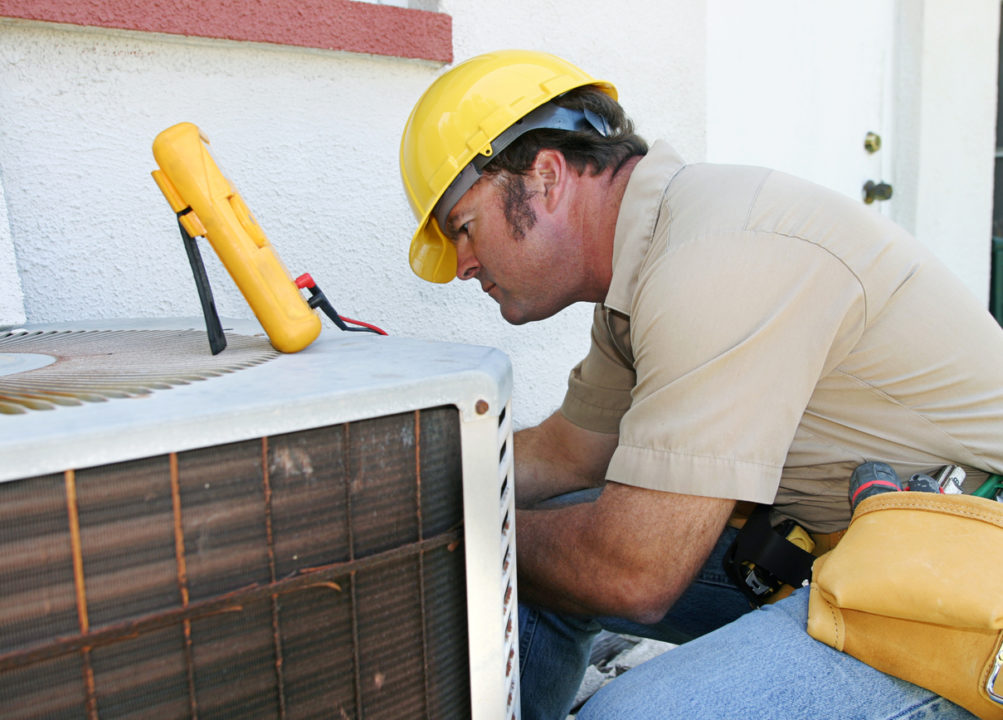 Our client was a young refrigeration mechanic. He had mapped out for himself a career path. This involved chasing "big bucks" working offshore and in the mines with the aim of saving as much money as he could, then setting up a refrigeration business to support his young wife and family.
Having obtained his trade certificates as a refrigeration mechanic, he secured employment offshore. He worked two weeks on and then returned home to be with his young family for the following two weeks. Working offshore had its problems. He was on call 24/7 during those two weeks. The company was understaffed. He was called on to assist other employees with building jobs totally outside his skill set. There was no use complaining, the jobs just had to be done.
One day, he was called on to remove a faulty air-conditioner and replace it. For reasons best known to management, the air-conditioner had been installed at ground level meaning, it became a very difficult task to remove the old air-conditioner and replace with the new one. As well as being at ground level, the ground itself was rough and sloping. A local man was there to assist but unfortunately, with language difficulties and no training, it was virtually left to our client to do the job by himself. Unfortunately, as he attempted to maneuver the 30kg plus unit into position, our client suffered a serious injury to his neck. He had pain and stiffness in his neck, pain in his left arm and pins and needles down into the fingers of his left hand. He attended a work clinic, was given a packet of painkillers and no treatment. He was asked by his employer to keep working which he did. Eventually, when he got back home and consulted his GP, his pain levels were incredibly high. His GP sent him off to a neck specialist who following scanning, advised that a neck fusion was needed to try and relieve the pain and problems he was experiencing with his arm and hand.
Following the surgery, an intensive physiotherapy program was implemented but unfortunately, did not do much to relieve his pain. He went to work and explained his predicament to his boss which, unfortunately, "fell on deaf ears". The work was intensive and he did his best but eventually, he had to stop work and return home.
The surgery had been a failure. He is left with constant pain in his neck, pain and weakness in his arm, extending down into his hands and fingers. Not being able to lift and carry and living with constant pain, has had a detrimental effect on him psychologically as well as physically. His career plans had been completely destroyed.
With a young family to support, he has had to change jobs to a more supervisory lighter role which has meant a huge drop in income. His plans to set up his own refrigeration business are now in ruins.
HOW TAYLOR & SCOTT COMPENSATION LAWYERS HELPED
Working for an Australian company offshore, our client wasn't aware of his rights. He consulted Simon Meigan, Partner and Accredited Specialist in personal injury, here at Taylor & Scott. Simon took very detailed instructions. He focused on exactly where his contract of employment had been entered into. It was determined by Simon that he had in fact been employed here in New South Wales before being sent overseas by his employer. Simon advised his client that he was covered by the workers compensation laws here in New South Wales.
Having confirmed his instructions, Simon set about ensuring that all of his workers compensation rights were in order. He arranged for an assessment of whole person impairment which turned out to be greater than 15%. Simon then advised his client to launch a work injury damages claim seeking a lump sum payment to cover his client's wage loss right up to retirement.
SUCCESSFUL WORK INJURY DAMAGES CLAIM
We are very pleased to report that Simon succeeded with the work injury damages claim. Our client received a very substantial lump sum for his loss of income calculated up to retirement. Simon has been able to secure his client's financial situation allowing him now to plan a future for himself and his young family in the full knowledge that he has a very substantial monetary settlement in his bank.
TAYLOR & SCOTT'S OFFER TO YOU
If you or someone you know is injured working for an employer "offshore", you may be covered for workers compensation and for negligence claims here in New South Wales. Our team of expert compensation lawyers offer you a free case assessment in every case.
If we act for you in a negligence claim, it will be done on a no win/no pay basis meaning you don't pay Taylor & Scott any costs whatsoever unless and until you win your claim.
Our lawyers are highly experienced. They will do everything they can to ensure you receive maximum compensation.
Contact our team at Taylor & Scott Compensation Lawyers on 1800 600 664 or email us at info@tayscott.com.au. We will arrange to meet with you at one of our offices here in New South Wales or your home or hospital.
At Taylor & Scott, We Care For You.