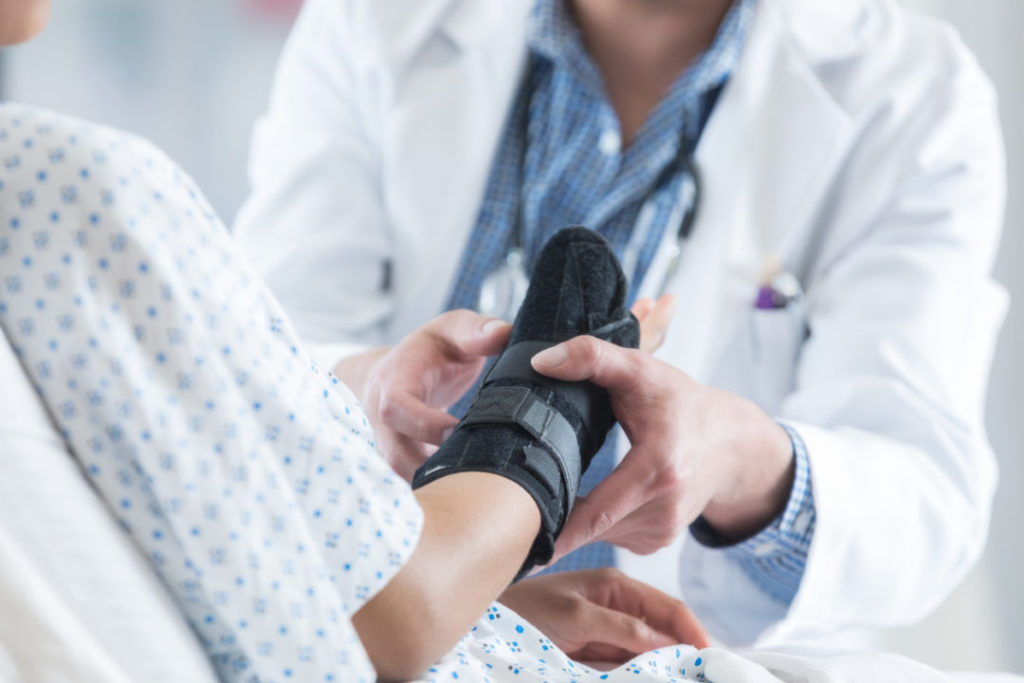 Our client was a shop assistant working for one of the large supermarket chains. At this time, she was working at a check-out register serving a customer. The register conveyor belt was faulty. At one point it moved forward causing an item to fall from the conveyor. Our client tried to save the item from smashing on the ground and in doing so, struck her hand on part of the check-out counter area. She felt immediate pain in her hand. She reported the accident and attended her GP for treatment. Unfortunately what at first appeared to be a relatively minor injury, has led to the development of a reflex sympathetic dystrophy affecting not only her hand but also her arm, neck and back.  
Our client is a fighter and was determined to overcome her pain and keep working. Her arm has continued to deteriorate and she has been forced to look for lighter, less onerous employment. Doing her best, she has secured work as a kitchen hand. She performs this work favouring her injured arm. Unfortunately, there are days when the pain is so bad she cannot work at all. Needless to say, this injury has had a devastating effect on her life and that of her family and also greatly impacted on her income. She turned to Taylor & Scott Compensation Lawyers seeking advice and assistance.
HOW TAYLOR & SCOTT WORKERS COMPENSATION LAWYERS HELPED
David Hartstein is an Accredited Specialist and expert in workers compensation claims. He met with his client and provided her with a free case assessment. Because her condition appeared to be deteriorating, he advised his client that she should wait until the doctors were able to assess her permanent whole person impairment before proceeding with her claim. In the meantime, David reviewed her wage earnings, both prior and post-injury, and ensured that she was being paid the correct make-up pay to cover her ongoing loss of wages.
David kept monitoring his client's condition and provided advice and re-assurance whenever it was needed.
Eventually, the doctors advised that her condition had stabilised and was permanent and accordingly an assessment of whole person impairment could be ascertained.
LUMP SUM PAYMENT OF WORKERS COMPENSATION AWARDED
Eventually David secured assessments of whole person impairment from expert doctors.  A claim was served on the workers compensation insurer and we are pleased to report that the claim has been paid.
WORK INJURY DAMAGES CLAIM SUCCESSFUL
The assessment of whole person impairment was greater than 15% and David was able to advise his client that in his view, she had the basis for launching a work injury damages claim for negligence against her former employer. David suggested that the erratic behaviour of the check-out conveyor should have been fixed so that this accident would not have occurred.  David pointed out that the work injury damages claim would seek a lump sum payment to cover all of his client's ongoing wage losses right up to her retirement.
The case was conducted on a no-win/no-pay basis, meaning that David's client was not asked to pay any costs unless and until her case was won.
SUCCESSFUL OUTCOME OF WORK INJURY DAMAGES CLAIM
We are very pleased to report that David has secured a substantial settlement of work injury damages for his client.
TAYLOR & SCOTT COMPENSATION LAWYERS' OFFER TO YOU
If you are injured in a work accident which has left you with a permanent injury, you are welcome to take advantage of Taylor & Scott's free case assessment. Our team of expert compensation lawyers will meet with you, assess your claim and provide you with free legal advice. If a workers compensation case is conducted, it will be done with a grant of legal aid from WIRO meaning you do not pay any costs whatsoever in respect to your workers compensation claim.
Further, if a work injury damages claim is brought against your employer or a negligence claim is brought against a third party, Taylor & Scott will take your case on a no-win/no-pay basis meaning you do not pay any costs whatsoever unless and until you win your case.
Please contact our expert workers compensation lawyers by phoning 1800 600 664 or email us at info@tayscott.com.au. Our lawyers will do everything they can to ensure that you receive maximum compensation.
At Taylor & Scott, We Care For You.