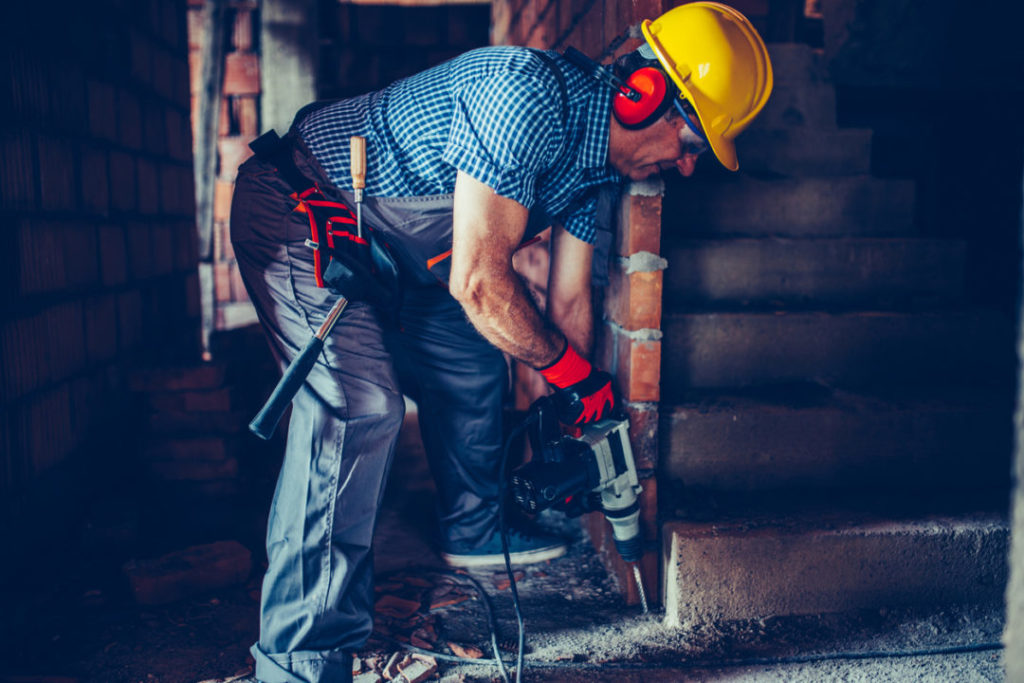 Our client is a relatively young man working in the construction industry as a gyprock fixer. He was part of a gyprock fixing team working on a hospital renovation.
The team were instructed to fix gyprock panels to various walls. Scaffolding was provided but unfortunately no thought had been given by the employer as to the positioning of the scaffolding for the job at hand.
In order to carry out the work which involved drilling with a very heavy hammer drill, our client had to work crouching low down, balancing on scaffolding pipe and holding the scaffolding pipe with one hand whilst he drilled with the other. This work practice was extremely difficult and dangerous. Our client didn't want to make waves and instead of complaining and stopping work, he just got on and did his best.
After performing this task for some time, he had just completed using the hammer drill in an awkward position with an outstretched arm. He started feeling pain in his lower back. As he continued the pain increased and he then started experiencing shooting pains from his lower back down into his leg.
The pain became so intense, he threw the hammer drill down onto the scaffold and climbed down the scaffold in intense pain. He rested and tried to do some alternative work but the pain just increased in intensity. He reported to his foreman and left the site seeking medical help.
Having consulted his GP, x-rays, CT scans and MRI scans were performed. From here he was sent to numerous specialists who recommended injections into his back and ultimately surgery.
Several surgical procedures were performed over the next several years. On each occasion, our client hoped that he would become pain free. Unfortunately, he remains in severe pain and has been diagnosed with "failed back surgery syndrome".
Our client is a fighter. He has over the years done everything he can to get back into the workforce. He could never return to building work because of the constant pain and weakness in his back and legs. He can't climb. He can't work from scaffold or ladders and being on his feet for too long aggravates his pain.
But he has done his best, putting up with the severe pain and finding light work from time to time.
Eventually he became very depressed with his failed surgeries and his ongoing pain. He contemplated suicide, but his family have been very supportive and been there to help him through these dark days. Eventually he sought legal advice from Taylor & Scott Compensation Lawyers who are experts in workers compensation and work injury damages claims.
Simon Meigan, Partner and Accredited Specialist in Personal Injury, assisted his client. Simon took very detailed instructions, numerous medical reports were obtained from all of his treating doctors and eventually Simon advised his client to bring a work injury damages claim seeking a lump sum payment to compensate him for all of his financial losses.
The matter was extremely complicated because of the number of years that had passed by since the accident and the extreme complexity of our client's ongoing medical condition. Simon arranged a settlement conference and after protracted negotiations was able to bring the matter to a successful conclusion with a very satisfactory settlement on his client's behalf.
If you or someone you know suffers a serious injury at work, you need to understand your legal rights to workers compensation and your rights in respect to possible negligence claims against your employer and against third parties.
Taylor & Scott Compensation Lawyers are experts in workers compensation and negligence claims. Our team are able to meet with you at our offices, home or hospital. Contact us by ringing 1800 600 664 or email us at info@tayscott.com.au.
All personal injury cases are conducted on a no-win/no-pay basis meaning that Taylor & Scott will pay all disbursements and you will only be charged legal costs if you are successful with your claim.
At Taylor & Scott, "We Care For You".