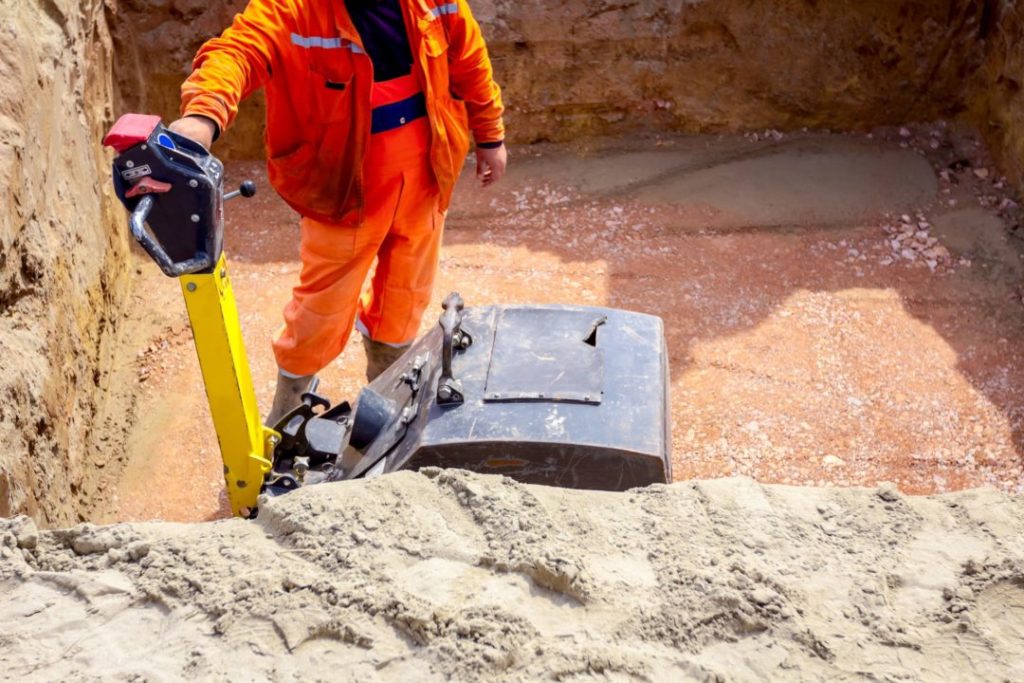 Our client was a labourer and machine operator working for a company in country NSW. His work involved operating excavators and dump trucks. The work was reasonably light, and our client loved his job. At one point our client came into a verbal conflict with one of the company's foremen. Believing that he was being unjustly bullied, our client complained to his Union. The Union took the matter up with the company in the hope that a resolution could be achieved. Unfortunately, the opposite occurred. Our client was removed from the excavator and dump truck work and ordered to operate a two-man trench compactor. This machine normally requires two men to operate. It weighs between 120-150kgs and compacts the earth through vibration. Not only was our client forced to operate the machine alone, but he was given no assistance when he needed to remove it from various trenches where he had been compacting earth. He had to lift and drag the machine several times a day out of these trenches.
As well as operating the trench compactor, our client was forced to spend days laying rolls of battering cloth over a hillside. This cloth is used to stabilize the earth and promotes the growth of grass. It involved a lot of bending, lifting, pushing and pulling, all of which can be described as "back-breaking work". Over time, our client developed pain and restriction of movement in his back. By the end of his shift, he was in extreme pain. By the time he had struggled home, all he could do was rest on the couch. Having spent over a week performing these tasks, at home one day he attempted to pick up his young child. As he did so, he felt an increase in pain which shot down his legs. The pain was very intense and so he just rested in the hope he would have recovered enough to get back to work the following week. After a few days, the pain was still very intense and so he took himself off to Accident & Emergency at the local hospital. He then attended his local GP who referred him to a Neurosurgeon.  MRIs followed, and the Neurosurgeon diagnosed disc bulges and compressed nerves in his back. He was advised to undertake conservative treatment including physiotherapy and hydrotherapy. Whilst recuperating at home, he walked down some steps. He jarred his back and heard a loud crack. He returned to his doctors. Further scanning revealed disc involvement encroaching on the nerve roots. He was referred to another Neurosurgeon who wanted nerve conduction studies performed. Unfortunately, the specialist could not offer any surgical intervention and our client has been left with ongoing pain in his back and down his legs.
Concerned for his future, he turned to the experts in workers compensation and in work injury damages negligence claims here at Taylor & Scott.
HOW TAYLOR & SCOTT WORKERS COMPENSATION LAWYERS AND NEGLIGENCE LAWYERS ASSISTED THEIR CLIENT
Initially, Kimberley Becker, a Senior Associate here at Taylor & Scott and an expert in workers compensation law, met with and advised our client. Kimberley arranged a face to face meeting where, having received very detailed instructions, proceeded to advise her client on his rights under the workers compensation laws here in NSW. She ensured that all the workers compensation claim forms had been properly completed and ensured that her client provided the insurance company with the necessary workers compensation medical certificates.
Initially, the workers compensation insurer rejected our client's claim, blaming all of his problems on the lifting of his young child, but we are very pleased to report that Kimberley was able to provide an overwhelming case supported by detailed medical reports which, simply put, confirmed that our client's back condition was a result of the nature and conditions of the heavy physical work he was forced to do prior to his injury. Eventually, he received all of his workers compensation entitlements including back pay and the insurer also met all of his medical treatment accounts. Following the success of the workers compensation claim, which also included a section 66 lump sum claim for whole person impairment of her client's back, Kimberley recommended to her client that he meet with Simon Meigan, Partner, Accredited Specialist in Personal Injury and one of NSW's leading litigation personal injury lawyers
HOW SIMON MEIGAN ASSISTED HIS CLIENT
Simon arranged a further face to face meeting with his client. He reviewed all the facts and circumstances of the case and provided detailed advice on a work injury damages claim for his client, particularly dealing with the negligence of his employer forcing him to operate the compactor alone and without assistance. Simon offered Taylor & Scott's no-win/no-pay cost agreement which meant Taylor & Scott were paid no costs whatsoever unless and until their client succeeded with his case
Following a settlement conference with the insurers, we are very pleased to report that Simon has secured a substantial settlement for his client in respect to his future wage loss.
TAYLOR & SCOTT LITIGATION LAWYERS' OFFER TO YOU
If you, a member of your family, friend or acquaintance is injured at work, it pays to take advantage of Taylor & Scott's face to face case assessment. We will meet with you and provide you with very detailed advice in respect to your rights under the workers compensation laws here in NSW. If we act for you, we will do so utilising Taylor & Scott's no-win/no-pay fee agreement. This means you don't pay Taylor & Scott any costs whatsoever unless and until you win your claim. Taylor & Scott Litigation Lawyers are leaders in workers compensation and work injury damages claims here in NSW.  No matter where you live, if you can't come to one of our offices, we will make arrangements to meet with you and provide you with considered expert legal advice.
Please ring 1800 600 664 or email info@tayscott.com.au
Rest assured that our team of expert litigation lawyers will do everything they can to ensure that you receive maximum compensation for your injuries.
At Taylor & Scott Litigation Lawyers, we care for you.