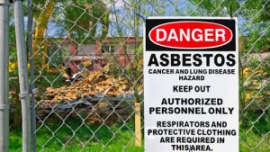 Recently Ivan Simic, Partner at Taylor & Scott and expert in dust diseases claims, acted for a client who had contracted mesothelioma. Our client's family moved to Warragamba and both our client and his father worked in and around the dam environment.
The township that grew up at Warragamba consisted mainly of cottages and workplaces which were all constructed of asbestos sheeting. Our client and his family were exposed to dust particles of asbestos, not only in their home but in all parts of the township and workplace. Several hundred homes were built to house workers' families and all contained asbestos sheeting. Even to go to the local shops, our client would pass by various cottages being constructed where asbestos sheeting was being cut up. In the end, all of the offcuts were gathered up, burned and buried nearby.
Ivan's client was a very keen sportsman, always keeping himself physically fit and a very keen rugby league player. Eventually he left Warragamba and moved on with his family to take up various occupations around Sydney. Unfortunately for him, the damage had already been done.
In retirement he was diagnosed with mesothelioma. Contact was made by the family with Ivan at Taylor & Scott, who immediately dropped everything and headed to the country town where our client had retired to. There Ivan took a very detailed history of our client's life and determined where his exposure to asbestos had occurred. Eventually having gathered all the evidence needed, Ivan then lodged a claim in the Dust Diseases Tribunal suing our client's former employer for negligence in exposing him to asbestos.
Evidence was taken in a bedside court as our client was very weak and couldn't leave his home. Eventually Ivan was able to negotiate a substantial settlement of our client's claim, thereby ensuring that our client's wife would be financially secure.
Commenting on the case, Ivan said:
"My client was a lovely man, totally devoted to his wife. He enjoyed hard work, football and was really enjoying his retirement until being diagnosed with this terminal disease, mesothelioma. Fortunately he was able to tell me his life story, I was able to pinpoint his exposure to asbestos and therefore we were able to ensure a fair settlement of his dust disease claim".
At Taylor & Scott " We Care For You."