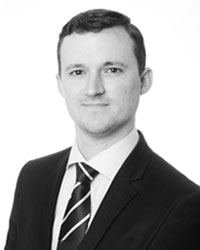 Associate

Email: info@tayscott.com.au
Phone: (02) 8737 4500
Fax: (02) 8737 4555

Firm service areas: Family Law

Offices: Parramatta

Qualifications and Admissions
Bachelor of Arts in English, Text and Writing
Bachelor of Law (Hons)
Post-Graduate Diploma of Legal Practice (the PLT)
Master of Applied Family Law (Distinction)
Solicitor of the Supreme Court of NSW
Solicitor of the High Court of Australia
Expertise and Practice Areas
Family Law
Litigation
Divorce
Parenting and child disputes
Property settlement
Binding Financial Agreements
Spousal maintenance
De facto relationships
Child support
Memberships and Industry Participation
Law Society of New South Wales
Bio
Lachlan has worked as a Family Lawyer since his admission to the Supreme Court of New South Wales six years ago. He joined Taylor and Scott as an Associate specialising in Family Law in 2018.
With clients ranging from high net-worth individuals and business people through to parents and their children, victims of family violence, low-income earners and those suffering from mental health concerns or addictions, Lachlan has a wealth of experience dealing with a full spectrum of cases and clients within the realm of Family Law.
Lachlan deals with complex financial cases and disputed property interests, provides objective and accurate advice regarding post-separation parenting disputes, and represents his clients at all levels of court proceedings. Every stage of his client's matter is accompanied by articulate oral and written advice to provide as much information and transparency as possible. His love for empowering people to make informed decisions combined with his personable and caring demeanour gives Lachlan a natural ability to empathise with clients from all walks of life.
Family Law can be complex and highly emotional for many individuals. With Lachlan's 'one step at a time' approach, he guides his clients through each option, explaining what needs to be done or decided upon at that moment and how that action will fit into the broader picture of reaching the desired resolution.
Lachlan regularly attends Family Law seminars and events hosted by the Family Court and the Family Law community to further discuss best practises that help assist his clients.
"I will continue to guide my clients through their separation with confidence, in the hopes of alleviating the stress and uncertainty of what is no doubt a difficult time in their life."
Success Stories
Articles