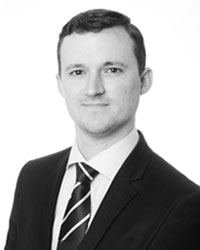 Associate

Email: info@tayscott.com.au
Phone: (02) 8737 4500
Fax: (02) 8737 4555

Firm service areas: Family Law

Offices: Parramatta

Lachlan has worked as a Family Lawyer since his admission to the Supreme Court of New South Wales in May 2014 and for three years prior to that, he worked in a boutique family law firm. Having completed a Masters in Applied Family Law with distinction, Lachlan has had carriage and autonomy of matters involving both straightforward and complex parenting and property issues.
Lachlan has advised clients in matters involving large and small asset pools, high and low incomes. He enjoys matters involving complex trust structures, corporate entities and third parties. He focuses on opportunities to settle and strives to achieve commercially sound results for his clients.
Where litigation is necessary, Lachlan's experience ensures clients are guided through the court process with confidence and clarity. Amongst other things, he has successfully represented clients at hearings, mediations and conferences dealing with such issues as exclusive occupation of former matrimonial homes, spousal maintenance, interim costs, financial disclosure, intervention by the Department of Family & Community Services, allegations of family violence, drug and alcohol abuse and serious mental health issues.
Lachlan is based at our Parramatta office, but travels for court and meetings as and when necessary.
Areas of practice in which Lachlan advises clients include:
• Divorce • Parenting/child disputes • Property settlement • Binding financial agreements (pre & post-nuptials) • Spousal maintenance • De facto relationships • Child support
Qualifications:
Bachelor of Arts (English, Text and Writing)
Bachelor of Laws (Hons)
Post-Graduate Diploma of Legal Practice
Masters of Applied Family Law (Distinction)
Admissions:
Solicitor of the Supreme Court of New South Wales
Solicitor of the High Court of Australia
Memberships and Industry Participation:
Member of the Law Society of New South Wales
At Taylor & Scott, We Care For You.