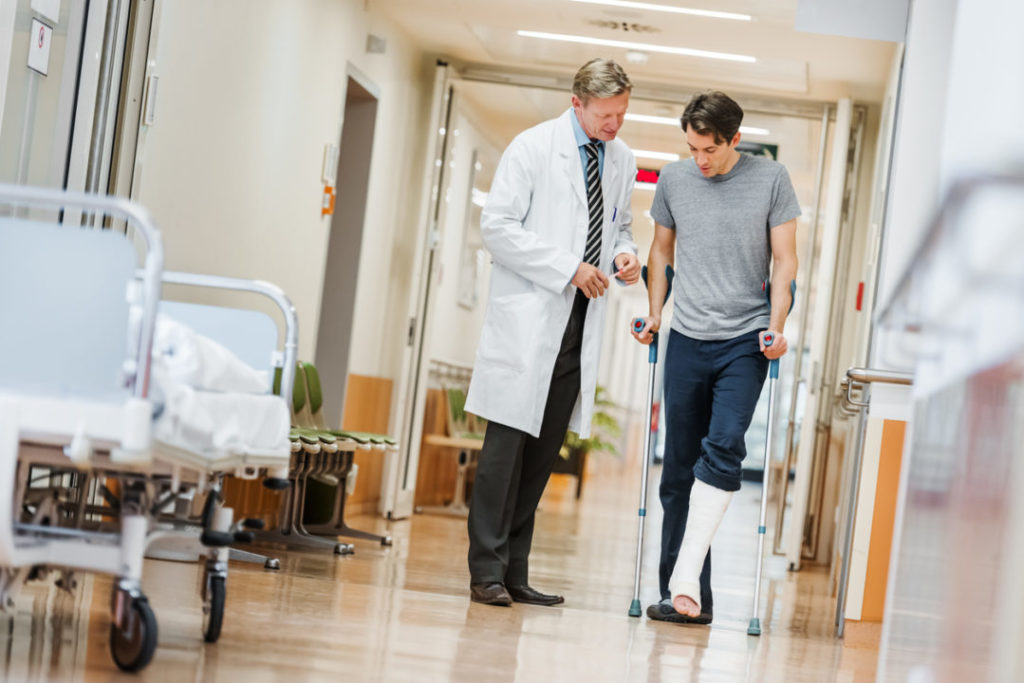 Workers' compensation schemes have been operating in Australia for over a century. While the systems have changed over the years, the goal has always been the same: a worker injured physically or psychologically, or suffering from a disease contracted or exacerbated at work should be compensated for that injury or disease.
A work-related injury or disease can affect all parts of an individual's life and the impact will be felt differently depending on the injury, type of work and a worker's personal circumstances. The workers' compensation scheme recognises this and provides for injured workers through a broad range of compensation categories.
The different types of compensation available to injured workers in New South Wales, along with a brief description of each are included below.
Weekly Payments
When a work-related injury reduces a worker's capacity to work they may be entitled to weekly payments to cover their loss of earnings.
To claim weekly payments an injured worker must demonstrate their reduced capacity to work. Capacity to work is based on a worker's functional, vocational and medical status.
Weekly payments may be received directly from an employer or the insurer within a usual pay cycle. The maximum weekly compensation amount is capped and indexed in April and October each year. The amount of weekly payments is determined by the following factors:
Pre-injury average weekly earnings

Current work capacity

How long initial provisional weekly payments have been received (these can be made for up to 12 weeks before a claim is accepted)

Whether a worker has been able to return to work

A worker's ability to earn in their previous workplace, undertaking similar tasks

Whether a worker's income includes non-monetary benefits
An insurer will set out injury management and recovery plans to help a worker return to work. A worker must meet their return to work obligations in order to receive weekly payments.  
Medical, Hospital and Rehabilitation Expenses
Injured workers are entitled to compensation for the medical, hospital and rehabilitation costs associated with their injury. These expenses can include treatment by medical practitioners, nursing and medical supplies, hospital visits, ambulance services, rehabilitation services and travel expenses.
Initial treatment, consultations with a GP and treatment provided, as well as services administered in the emergency department of a public hospital, are generally covered automatically, but subsequent medical costs may require pre-approval from the insurer. An insurer will only pay expenses for treatment and services deemed reasonably necessary as a result of the injury.
Strict entitlement periods apply and medical, hospital and rehabilitation expenses can only be claimed during specific entitlement periods. The compensation period depends upon whether weekly payments are being made and the degree of permanent impairment. Workers with high needs may claim medical expenses for life.
Domestic Assistance
A work-related injury may affect one's ability to perform tasks in their own home, such as cleaning, laundry, mowing and gardening. In these circumstances, an injured worker can claim domestic assistance.
A worker is eligible to claim domestic assistance if:
A medical practitioner recommends the injured worker would benefit from the assistance

The assistance is assessed as reasonably necessary

The injured worker completed the domestic tasks prior to the injury

The injury has resulted in a permanent impairment of at least 15 per cent or the assistance is temporary (up to six hours per week for a total period of three months).
New Employment Assistance Payments
When an injured worker can't return to work with their pre-injury employer because of their injury, they may be entitled to new employment assistance payments of up to $1,000.
These payments are aimed to cover the costs of returning to work with a new employer and cover things like transport, childcare, clothing, education and training, and equipment.
Education or Training Assistance Payments
Where further education or training is required to help a worker return to work, they can claim education or training assistance payments. These payments of up to $8,000 aim to help cover the cost of additional course fees and related expenses, such as textbooks.
To claim education or training assistance a worker must:
Have been assessed as having a permanent impairment of more than 20 per cent

Have received weekly payments of compensation (paid or payable) for a period of more than 78 weeks

Participate in education or training that is consistent with their injury management plan

Ensure that the education or training assistance is provided by a registered training organisation or a registered higher education provider
Lump Sum Compensation for Permanent Impairment
Lump sum compensation can be claimed in addition to other benefits including weekly payments and medical expenses if a worker sustains permanent impairment as a result of a work-related accident.
To make a lump sum compensation claim, those with a physical injury must have permanent impairment of 11 per cent or more, while those with a primary psychological injury must have 15 per cent or more permanent impairment.
A lump sum payment can only be claimed once, and at the time of claim, the injury must have reached maximum medical improvement.
Payments in the Event of Death
Where a work-related injury results in death, compensation may be payable for funeral costs and other support payments. Funeral costs include the cost of the funeral service, coffin, flowers, mourning car, cemetery site and funeral director fees. Funeral costs are capped at $15,000.
Support payments for dependants include a lump sum payment (currently $798,100) and weekly payments for each dependent child up to the age of 16 (or 21 if they are in full-time education).
Commutations
A commutation occurs between the injured worker and the insurer when they agree on a single lump sum payment. A commutation agreement is registered with the Workers Compensation Commission and removes the insurer's liability to pay future weekly payments or medical costs associated with the injury. An injured worker must meet certain conditions to be eligible for a commutation agreement.
Work Break and Journey Claims
If a worker is injured while on a work break (eg. lunch break) or on a work-related journey they may still be entitled to compensation. Such injuries fall into the 'other work-related injuries' category and a corresponding form should be used when making a claim.
Hearing Impairment Claims
The nature of some work can result in hearing loss and workers may be able to claim for the cost of hearing aids and hearing tests. If a worker has hearing loss and it is related to their employment they can claim for hearing aids.
A hearing assessment report is necessary to make a claim and if the worker is no longer working in a noisy environment they will need to lodge their claim with the last employer who employed them in a noisy workplace. Hearing impairment claims are also eligible to make lump sum compensation claims.
Work Injury Damages
If a work-related injury is the result of an employer's negligence then an injured worker may be entitled to sue for 'work injury damages'.
To claim work injury damages, the work injury must be the result of an employer's negligence, the injury has resulted in 15 per cent permanent impairment and all statutory lump sum entitlements for permanent impairment must have been received.  
Work injury damages include past loss of earnings and future loss of earning capacity. If work injury damages are awarded to an injured party then workers compensation benefits including weekly payments and medical expenses can no longer be claimed.
The Workers Compensation Commission aims to help parties reach a settlement, but in some cases, disputes will involve court proceedings. Court proceedings must begin within three years of the injury occurring.
COMMON LAW CLAIMS
If a worker is injured due to the conduct or negligence of someone other than the employer or fellow employee, the worker may be able to sue at common law to recover damages including damages for economic loss and pain and suffering.
Have you been Injured at Work?
A work-related injury or illness can have a significant impact on your entire life. The compensation categories above may seem overwhelming, but with the right advice and guidance, you will get the right compensation for your needs.
Our specialist personal injuries team are experienced in work-related injury claims and can help you get back on your feet quickly. If we believe you have a viable workers compensation claim, we will make an application for a grant of legal assistance from the Workers Compensation Independent Review Office, which means you will not pay any legal costs in pursuing a workers compensation claim.
Give us a call on 1800 786 931 or use our contact form to speak to us about your work-related injury. We'll be happy to help.
At Taylor & Scott, We Care For You.