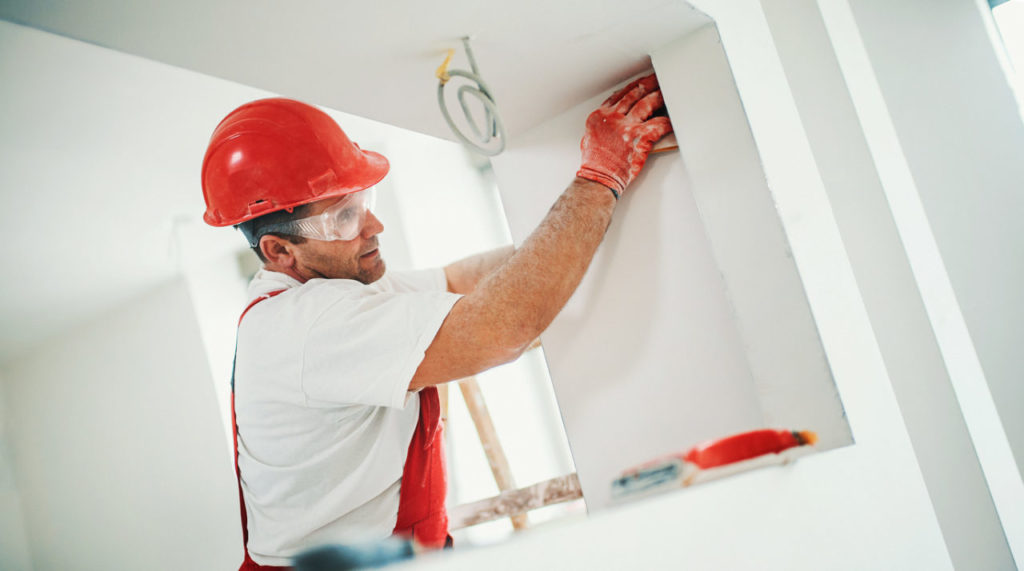 Ivan Simic, who is an Accredited Specialist in Personal Injury and an expert in dust disease cases, recently secured a large settlement for a client. Ivan's client had left school in the late '60s and then completed a five-year apprenticeship obtaining his ticket as a wood machinist. For the next ten years plus, he worked for various companies building furniture. He had no exposure to asbestos.
In the 1970's he secured work with a kitchen company which specialised in installing kitchens and bathrooms into new spec homes. His job was to install the cabinetry and vanities into kitchens, bathrooms and laundries into these new homes. Our client loved his job. He worked a six-day week. He was paid a bonus for completing the installations on time. In all of these installations, villaboard sheeting was used on the walls and ceiling of the kitchens, bathrooms and laundries. Because these areas are regarded as wet areas, gyprock plasterboard could not be used. Unfortunately, no-one warned Ivan's client that villaboard sheeting contained asbestos. As there were no warnings given, he didn't wear a mask or gloves. The asbestos dust and fine particles covered his clothes and got in his hair. He breathed in the asbestos dust caused by drilling, cutting and the sweeping up of the offcuts at the end of the day.
Most days he found fine grey-white powder dust covering the exposed parts of his body. He didn't give it much thought and just accepted that breathing in the dust was part and parcel of his installer's job.
After ten years of this work, he left and went to help a relative in the plastering business. Again, villaboard was one of the main products used in the kitchens, laundries and bathrooms that he had to plaster. His job mainly was to assist with the installation of the villaboard and then to sand down the sheeting once it had been set. Again, no warnings were ever given about the dangers of inhaling asbestos dust.
After a year or two, he managed to return to his old trade of woodturning and cabinet making.
Unfortunately, the time he had been exposed to the villaboard asbestos dust was a time bomb ticking away in his lungs. In 2016, he developed shortness of breath and other lung problems. In late 2016, he was diagnosed with mesothelioma. He was devastated. Since then he has suffered from fatigue, anorexia, nausea, constant chest pain, weight loss and depression. He has had to undergo very painful chemotherapy. Concerned for his wife and children, he turned to Ivan Simic, expert in dust disease cases, for advice and help here at Taylor & Scott. Ivan visited his client at his home on numerous occasions. He took very detailed instructions about his client's work history. He met with workmates to obtain supporting evidence and secured appropriate expert reports on both liability and on his client's medical condition. Ivan then launched a negligence case in the Dust Diseases Tribunal here in New South Wales.
We are pleased to report that Ivan has secured a very substantial settlement for his client. This settlement has removed a major stress for his client who was extremely worried about the financial security of his wife for the future.
Taylor & Scott's Offer to You in Asbestos-Related or Mesothelioma Claims
Our team of expert lawyers led by Ivan Simic, conduct all asbestos-related or mesothelioma claims on a no-win/no-pay basis. This means that you pay absolutely no costs to Taylor & Scott unless and until you win your case. No matter where you are in New South Wales, our lawyers will come to you if you are unable to meet with them at one of our offices. If you or someone you know is suffering from an asbestos-related disease or from mesothelioma, please contact us immediately on 1800 600 664 or email us at info@tayscott.com.au
Don't wait, act now. It is important that your evidence be taken at the earliest possible time. Ivan Simic and his team of experts will do everything they can to ensure that you receive maximum compensation.
At Taylor & Scott, We Care For You