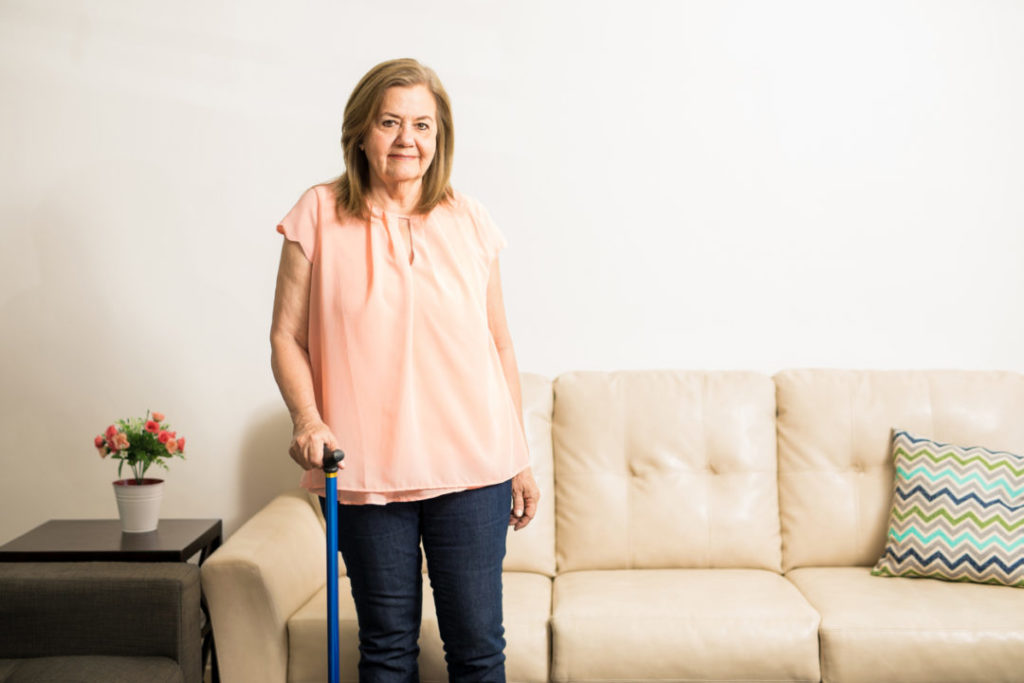 Our client worked in a permanent part-time position as a shop assistant with a large supermarket chain. On this particular day, she had entered the store to clock-on for work. As she walked through the store, she turned to acknowledge a greeting from her boss. As she said her hellos, she unfortunately stood on a number of grapes that had fallen onto the shop floor. The next moment she was writhing in agony on the concrete floor.
Fellow workers had failed to clean up the fallen grapes. They had failed to deploy large rubber mats which were supposed to be laid out in the various sections of the supermarket to prevent this type of accident. No warning signs had been put out warning of potential danger.
In the accident, our client had suffered a very serious injury to her hip and knee. Her knee had been severely dislocated and she was unable to get off the floor. She was in extreme pain. Fellow workers rushed to her aid and an ambulance was called which fortunately arrived in a short space of time. Because of her severe pain, the ambulance officers administered morphine and then tried to reduce the dislocation in her knee to allow her to be placed on a stretcher. Upon arrival at the hospital, she was x-rayed and the dislocation was further reduced by an orthopaedic specialist. Her leg was placed in a special brace and she had to wear an orthopaedic boot. She then underwent intensive physiotherapy which unfortunately did not help. Following this treatment, she attended various orthopaedic specialists who eventually recommended that she undergo a total knee replacement. Then followed more physiotherapy and exercise programmes. Walking with a cane and having to lean on a supermarket trolley for stability, she attempted to return to work. She soldiered on as best she could. She remained in extreme pain and was very unsteady on her feet. She had hoped that her employer would offer her work where she could sit down, but this was not to be. Eventually, her employer terminated her employment.
Needless to say, she was devastated. To make matters worse, she developed a number of blood clots which have required a series of incisions into her leg to remove the clots. She has continued to have active rehabilitation treatment, undergoing physiotherapy, hydrotherapy, gym programmes and a series of injections. Because she now walks at an odd angle, she has developed pain in her lower back. Being desperate to get back to work in order to support her family, she has applied for many jobs. Unfortunately, as she has to continue to use her walking cane, no employer is prepared to give her a start. As a result of the injuries and surgery, she has great difficulty kneeling, squatting, bending, lifting and twisting. She remains in constant pain and has great difficulty negotiating stairs.
HOW TAYLOR & SCOTT LITIGATION LAWYERS HELPED
Unsure of her rights and anxious about her future, she turned to the experts here at Taylor & Scott. Initially, David Hartstein, an expert in workers compensation and an Accredited Specialist in Personal Injury, gave advice. He reviewed his client's workers compensation rights and entitlements to make sure that they were in order. Having ensured that she was receiving her entitlements, David referred her to Simon Meigan, Partner and Accredited Specialist in Personal Injury. Simon reviewed the case in conference with his client and advised her that in his opinion, she had a claim for work injury damages against her employer for their negligence in not ensuring that her place of work was safe and secure. Having agreed to let Simon act in her work injury damages claim, Simon undertook to do so on a no-win/no-pay basis meaning his client paid no costs to Taylor & Scott unless and until she was successful in her work injury damages claim. Simon set about obtaining the evidence he would need to win the case. He qualified various orthopaedic experts to ascertain her whole person impairment (which was greater than 15%) thus allowing her to proceed with her work injury damages claim. He qualified an expert in occupational health to give an opinion on his client's employability. He then calculated her financial losses as a result of her inability to work right up to retirement. Simon was then ready to proceed with the work injury damages claim.
Eventually, the claim came to mediation and we are pleased to report that Simon has been able to secure a very fair settlement of his client's work injury damages claim thereby securing her wage loss right up to retirement age.
INJURED AT WORK? TAYLOR & SCOTT'S OFFER TO YOU
If you are injured at work and you have been left with permanent injuries that affect your ability to work, you are invited to contact our team of expert litigation/compensation lawyers by phoning 1800 600 664 or email us at info@tayscott.com.au. We offer you a confidential free face to face case assessment. If we believe you have a claim and if you agree to Taylor & Scott acting for you, we will undertake to do your case on a no-win/no-pay basis, meaning you do not pay Taylor & Scott any costs whatsoever unless and until you win your case. Trust the team who has been assisting injured clients here in NSW for over the last 100 years.
At Taylor & Scott, We Care For You.