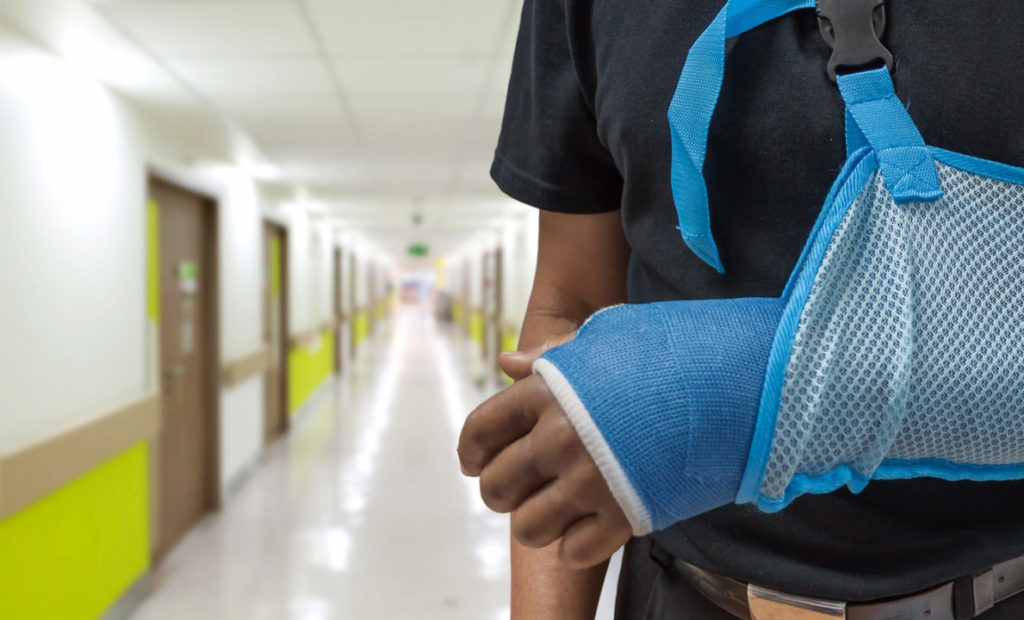 Our client purchased a circular dropsaw from a reputable hardware store. The saw was only a few months old. Whilst working on a job, he needed to operate the saw. Whilst operating the saw, the head of the saw together with the spinning blade fell onto his hand. As a result of the accident, our client suffered a catastrophic injury to his hand. Following an investigation, it was found that the saw was faulty in that the spring which had the function of holding the head of the saw and the spinning blade, dislodged from its proper position causing the blade to fall down onto our client's hand. As a result of the accident, our client suffered an almost complete amputation of his hand.
Fellow workmates rushed to his assistance and an ambulance took our client to the hospital.
Thanks to the remarkable skill of the hand surgeon, our client's hand was saved but needless to say, his hand is near useless. His surgeon operated for nearly twelve hours re-attaching his hand. Then followed numerous operations to carry out further repairs over the next two years. Our client was hospitalised initially for several weeks and then followed many months of extremely intense physiotherapy to try and get movement back into his hand. Ultimately the surgeon saved the hand but our client's days of working as a skilled tradesman have been crushed. As a result of the injury, our client has had to try and learn to do everything with his other hand. He has reduced grip strength, impaired dexterity and sensory impairment, he has difficulty dressing himself. He suffers from sleeping difficulties. He suffers from nightmares and flashbacks. He constantly relives the accident. He has pain and restricted movement in his arm and hand. He has extreme stiffness and swelling in his hand. His hand is a mess of scars which are a constant reminder of the accident. Needless to say, he has suffered psychologically. Hearing neighbours use power tools creates anxiety and depression.
HOW TAYLOR & SCOTT COMPENSATION LAWYERS HELPED
Our client approached Simon Meigan, a Partner here at Taylor & Scott, an Accredited Specialist and an acknowledged expert in personal injury negligence claims. Simon met with his client on numerous occasions. Simon arranged for an expert engineer to examine the saw and determine exactly why the accident occurred. The expert was able to pinpoint the faulty spring and determine that the manufacturer and importer of the saw had been negligent. Simon recommended that his client launch a claim in the Supreme Court of NSW suing the importer of the saw for breaches of the Civil Liability Act and for breaches under Australian consumer law and NSW fair trading laws.
Simon gathered expert evidence from his client's treating specialist and from specialists in occupational medicine. He retained the services of an expert psychiatrist to explain his client's psychological problems.
Eventually, Simon was ready to proceed to a hearing of the case in the Supreme Court and invited the insurance company representing the defendant to meet to try and negotiate a settlement of his client's claim.
SUCCESSFUL OUTCOME OF NEGLIGENCE CLAIM
We are very pleased to report that Simon has been able to negotiate a very large settlement of his client's case compensating his client for all of his financial losses resulting from the accident. He has also succeeded in obtaining substantial damages compensating his client for his pain and suffering and the effects, both physical and psychological, of this accident on his client.
TAYLOR & SCOTT'S OFFER TO YOU
If you are injured as a result of faulty equipment, you may be able to sue the manufacturer or importer of that equipment. Our team of expert negligence lawyers led by Simon Meigan, will ensure that the appropriate experts are retained to provide expert evidence as to why an accident/injury has occurred. If your accident has been caused by negligence, rest assured our team will do everything they can to prove your case.
All negligence claims that Taylor & Scott conduct are done on a no-win/no-pay basis meaning you do not pay any costs to Taylor & Scott unless and until you win your case.
Please contact our team of expert negligence lawyers by phoning 1800 600 664 or email us at info@tayscott.com.au.
Our expert lawyers are dedicated to ensuring that you receive maximum compensation for your injuries.
At Taylor & Scott, We Care For You.