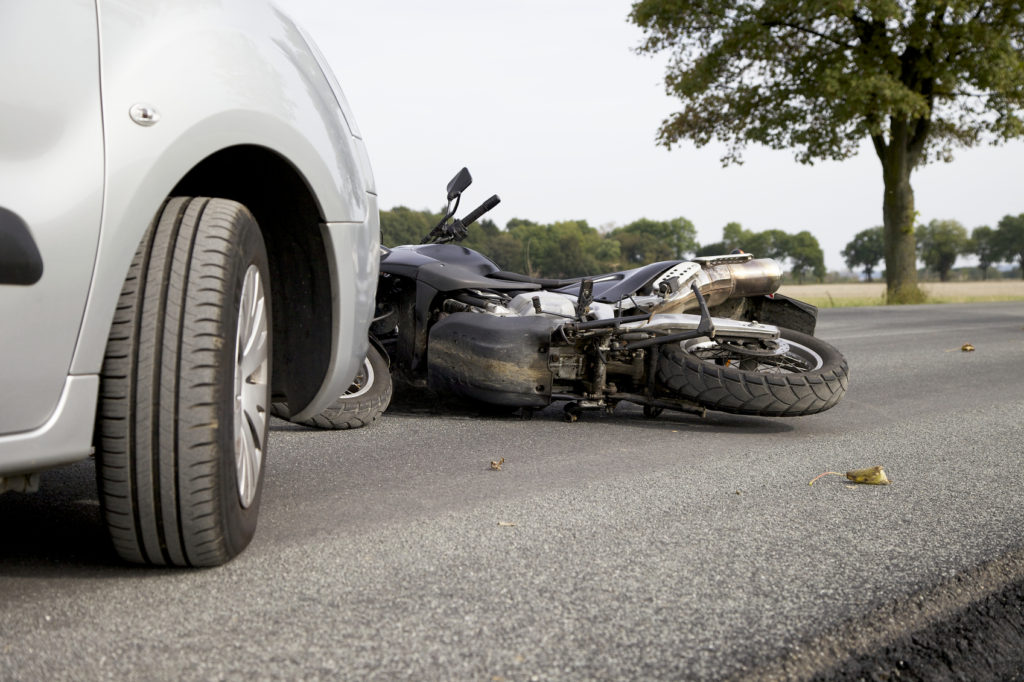 Motorcycle Accident Facts
Our client came from Chile. Having completed his shift at work, he was heading home. A vehicle travelling behind him struck our client throwing him from his motorcycle. In the motorcycle accident, he was thrown about seventy metres down the road.
Fortunately our client was wearing full leathers, a full face helmet and motorcycle boots. Having been checked out by the ambulance, he refused the invitation to go to hospital thinking that a few days rest would see him recover. Unfortunately this was not to be.
The Motorcyclist's Injuries Fail to Heal
After several days, although in a lot of pain, our client got himself back to work. He struggled on for several months always believing that eventually the pain would go, but this did not happen. He suffered pain all the way down one side of his body, he developed nausea, headaches and pain in his neck and shoulder.
Pain developed in his lower back. All the time he kept trying to work. Eventually the pain was so bad he had to stop work. Visits to numerous doctors, operations on his shoulder, injections, scans, numerous different types of medication – nothing seemed to work. Eventually he found his way to the road accident compensation lawyers here at Taylor & Scott.
Out of Time With Motor Accident Notification Form
Our client visited Simon Meigan who leads our motor accident compensation legal team who then proceeded to provide our client with a Free Case Assessment of his claim. During the Case Assessment, our client advised that he had not complied with the Motor Accident Legislation. He had not completed a Motor Accident Personal Injury Claim Form and served it on the greenslip insurer within the first six months following the accident.
Simon advised that he would have to prepare a very full and detailed explanation as to why this had not been done. Simon agreed to do the case on a no-win/no-pay basis and set about providing the full explanation that was required.
Car Accident Compensation Awarded
Simon prepared a comprehensive Statutory Declaration of several pages detailing everything that had happened to his client since the accident and explaining why he had not provided the motor accident claim form. Ultimately, the greenslip insurer accepted the explanation and the car accident compensation claim was allowed to proceed.
Numerous medical reports were sought documenting every injury that our client had suffered. Detailed financial documentation was gathered to substantiate his economic loss claim. Assessments were made by medical experts in respect to the future needs for treatment that our client now required as a result of his injuries.
Eventually Simon participated in a settlement conference with the greenslip insurer and was able to settle his client's claim for a very substantial settlement ensuring the financial security of his client.
Our Offer To You
If you have been injured in a motorbike, bicycle, car, bus, taxi or any other type of motor vehicle accident, you must ensure that a motor accident claim form is served on the greenslip insurer within six months of the accident.
If you haven't done this, don't panic. If our road accident compensation lawyers agree to act for you, they will do so on a no-win/no-pay basis meaning that if you don't win your case, we don't get paid. They will provide an appropriate explanation for the delay in providing the motor accident claim form to the greenslip insurer and they will do everything to protect your rights in respect to the motor accident claim.
Contact our team on 1800 600 664 or complete the Contact Form on this page. Let our road accident compensation lawyers help you to a better future.
At Taylor & Scott "We Care For You".