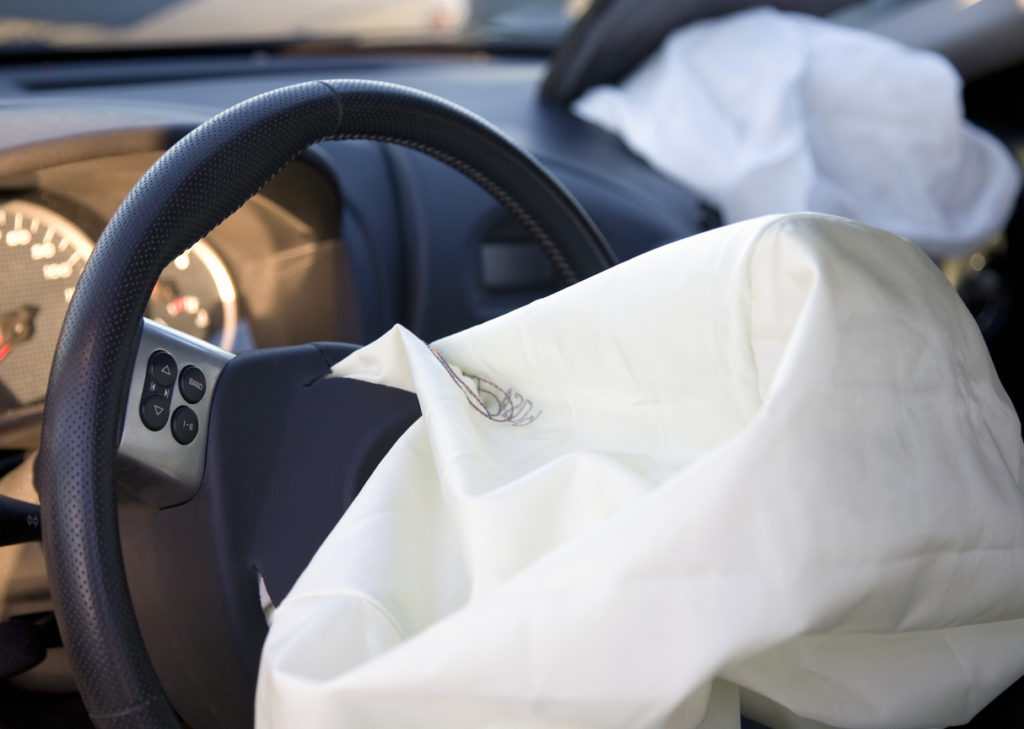 A couple of months ago, a fatal car accident in Sydney made news headlines when investigations revealed the man's death was likely due to a faulty Takata airbag, causing the man to be struck in the neck with a piece of shrapnel.
That accident triggered safety fears for over half a million motorists in Australia alone, driving cars fitted with the same airbags.
Since 2009, airbags made by the Japanese manufacturer, Takata, have been at the centre of the world's largest vehicle recall in history, with suspected links to 18 deaths worldwide including the Sydney man. The Takata airbags are in 60 car brands sold in Australia. However, motorists here may have to wait for up to a year before the airbags can be replaced – because the supplier can't make the replacements fast enough.
What could that mean for you?
Each year in Australia hundreds of potentially dangerous products are recalled. It is often an injury that prompts these recalls in the first place, as the law works to protect Australians and prevent injury.
it is the responsibility of the airbag manufacturer to ensure their product is safe and compliant with Australia's vehicle safety standards and adequately tested. Under Australian Consumer Law, manufacturers are liable for personal injury resulting from products with safety defects. As a result, consumers are entitled to make a product liability compensation claim.
Can you make a product liability compensation claim?
If you own a car fitted with the defective airbags that have not yet been replaced, you unfortunately, cannot claim compensation until a person was injured or killed due to the defective airbags. In short, The potential of the airbags failing is not enough grounds to seek compensation, the airbags would have to actually fail before you can claim compensation for the injuries and damages sustained.
When deciding if a product is defective, a court will consider the purpose for which the product was made; the purpose for which the product might reasonably have been used; the way in which the product was advertised; along with any instructions, manuals or packaging warnings. In this particular case, the Japanese airbag manufacturer has admitted to faults with its airbags.
What can you claim?
The injury may be physical or psychological. Compensation can be claimed for medical expenses, loss of income, carer's costs, rental car or pain and suffering.
When Can You Make a Claim?
Product liability claims apply to most consumer products and goods sold in Australia, including, but not limited to: cars, food products, toys, cosmetics, sporting equipment, household items, tools, clothing and appliances.
You can make a claim even if you didn't buy the product yourself. For example, you may have bought a second-hand car from a private owner or received the car as a gift from an uncle and wouldn't know if the car was fitted with the faulty airbags. In addition, warnings listed on product packaging and user manuals do not completely remove a manufacturer's liability and your ability to make a compensation claim.
In cases of product liability, the manufacturer may be the company that actually makes the product, imports a product into Australia or modifies another manufacturer's product for their own purpose. Dependents of a person injured or killed by a faulty or defective product can also claim for losses they sustain as a result.
What to do if you have been injured by a faulty product?
As a general rule, following an injury as a result of a faulty product you should:
Seek medical assistance for the injury and be sure to keep all medical records.
Report the incident to the manufacturer and/or the Australian Competition & Consumer Commission.
Retain the defective or faulty product so it can be used as evidence. If relevant you should take pictures and save any other documentation that may assist your case.
Contact a legal professional to discuss your case as soon as possible.
At Taylor & Scott Lawyers, we specialise in personal injury compensation claims and in many cases, we will offer our services on a no win/no fee basis. It's important to seek legal advice as soon as possible because time limits do apply.
If you or someone you know needs expert advice from our specialist team of lawyers, phone us on 1800 600 664 or complete the contact form on this page.
At Taylor And Scott 'We Care For You'.