Entertainment and activities enjoyed at theme parks is a rite of passage for most Australian families. However, with adrenaline-charged fun in an unfamiliar environment comes potential for accidents and injuries that can quickly turn a fun time into an accident or emergency, occasionally with tragic results. Accidents can happen at any time and anywhere, with likelihood increased where thrills and spills are the norm. If you or a loved one have suffered an injury while visiting a theme park, leisure park, sporting complex or activities centre, you may be entitled to public liability compensation.
How do accidents occur at theme parks and activity parks?
Public liability compensation claims are reliant on evidence that proves negligence on behalf of the theme park or leisure centre owner. In many cases, theme park incidents are considered accidents where blame can't be realistically attributed elsewhere, so your claim will need to attribute negligence to another party. Taylor & Scott Public Liability Lawyers will help you determine the potential for a winnable claim during your free case assessment. In accident cases where the risk of accidents and injuries was foreseeable, theme and leisure park operators can be held accountable, with compensation paid by their insurer.
What injuries can you make a public liability claim for?
Almost all of us have experienced the danger of running on a wet surface beside a swimming pool or water park ride. Slips, falls and broken bones are common, and if the fall occurs where there is no signage warning of the danger, a compensation claim case may be established. Other examples include:
Injuries caused on a ride due to theme park staff not following height limit standards for children.
Improper maintenance of rides and equipment according to industry and government guidelines, resulting in an accident.
Protective measures not properly established, such as adequate padding on a trampoline frame.
What are some examples of park owner negligence?
Owners and operators of theme and leisure parks have a duty of care to ensure visitors and staff are free from risk of reasonably foreseeable injury or harm. This includes complying with industry standards and undertaking scheduled tests and maintenance of equipment. Ensuring the safety of large numbers of visitors is a huge undertaking requiring constant monitoring and supervision, with considerations that include:
Supervising patrons to ensure they are following theme or leisure park rules
Providing appropriate fencing and barriers to protect spectators
Ensuring patrons are fitted with appropriate safety harnesses while on rides
Establishing clear signage that provides park rules and warnings of danger
Training staff to fulfil their role in accord with health and safety guidelines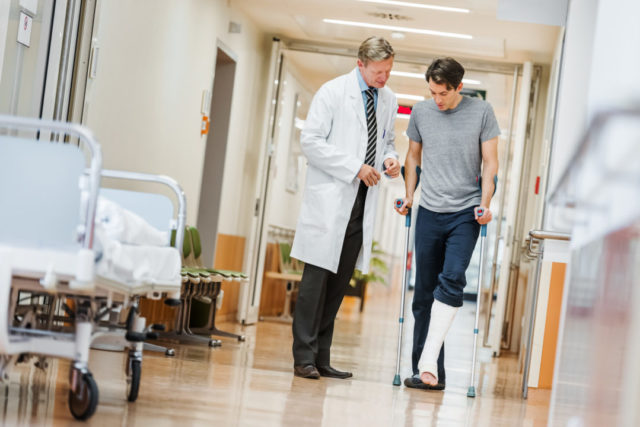 Am I entitled to a public liability claim?
A lot of accidents occur at theme and leisure parks. Parents, guardians and other park patrons are understandably angry and concerned when accidents happen, with public liability compensation an initial consideration. Every compensation claim case is established on its individual merits, with Taylor & Scott Lawyers eminently qualified to investigate. Time limits apply for public liability claims, so contacting us as soon as possible after the event will help overcome obstacles and speed up the claim process. We will assist you in providing advice that includes:
The leisure centre business owner had a duty of care to establish guidelines and take precautions for preventing reasonably foreseeable injuries.
The owner, operator or other person in charge breached their duty of care through actions or omissions that resulted in a person or persons sustaining injuries.
The accident or injury was directly caused by owner or operator negligence rather than visitor behaviour contrary to park or centre rules.
Public liability compensation claims can become complex and confusing, especially when disputed by insurance companies and opposing legal teams. In such cases, the assistance of compensation industry experts is essential, and Taylor & Scott Public Liability Lawyers are the legal professionals with a reputation for successful outcomes. We believe all Australians have a right to enjoy outings free from unnecessary risks, hazards and dangers, and will use our considerable industry experience and legal weight to support your case.
When is a theme park liable for injuries?
Operators of theme parks, leisure centres, water parks and other entertainment venues can be held accountable if injuries occur where the risk of injury is reasonably foreseeable and appropriate action isn't taken to mitigate risks. Visiting a theme park or water park by purchasing a ticket or paying admission implies entering into a contract with the operator, although negligence law states that amusement parks and other operators have a duty of care to ensure all park rides and attractions are as safe as possible, including proper design, regular maintenance and safe operation.
Common amusement park injuries include:
Whiplash;
Soft tissue damage;
Back and neck injuries;
Dislocation, fractures, breaks;
Head collisions;
Water inhalation and drowning.
If you or a family member have suffered amusement park injuries, speak to a Taylor & Scott Lawyer regarding your claim's potential.
How to report injuries from theme parks?
The first step in initiating a successful claim is to utilise the services of a highly qualified and experienced Taylor & Scott Attorney. You will gain valuable legal advice during your free case assessment, and if we believe your theme park injury claim has merit, we will commence compensation claim proceedings immediately on your behalf. The amount you can claim will be determined by evidence, and you will need to provide:
Financial records showing the cost of medical treatments;
A reasonable estimate of expected future medical costs;
Reports by medical professionals and other treating experts;
A psychological report detailing any psychological or posttraumatic stress disorders;
Insurance assessment of the material damages suffered due to the injury;
Police reports;
Witness statements.
Taylor & Scott Lawyers offer a free case assessment, essential legal advice, and a 'no-win, no-fee' policy so you can commence your claim without financial stress.
Are there any time limits when making a theme park injury compensation claim?
Strict time limits apply for making a theme park injury compensation claim. In the majority of cases the claim can be settled between the injured party and the negligent party's insurer, without the need to go to court. Legal action must commence within 3 years of the accident occurring, although time constraints can be extended in special circumstances, for example, where the true extent of injuries takes a long time to become fully apparent.
If you believe you have a valid theme park accident compensation claim, you should contact a Taylor & Scott professional as soon as possible. The personal injury claims process can be complex when many factors are involved and negligence needs to be proven. Taylor & Scott injury lawyers will assist by compiling and collating all relevant reports, receipts, statements and other evidence into a comprehensive and convincing document that will maximise your chances of claim success.
At Taylor & Scott, We Care For You.