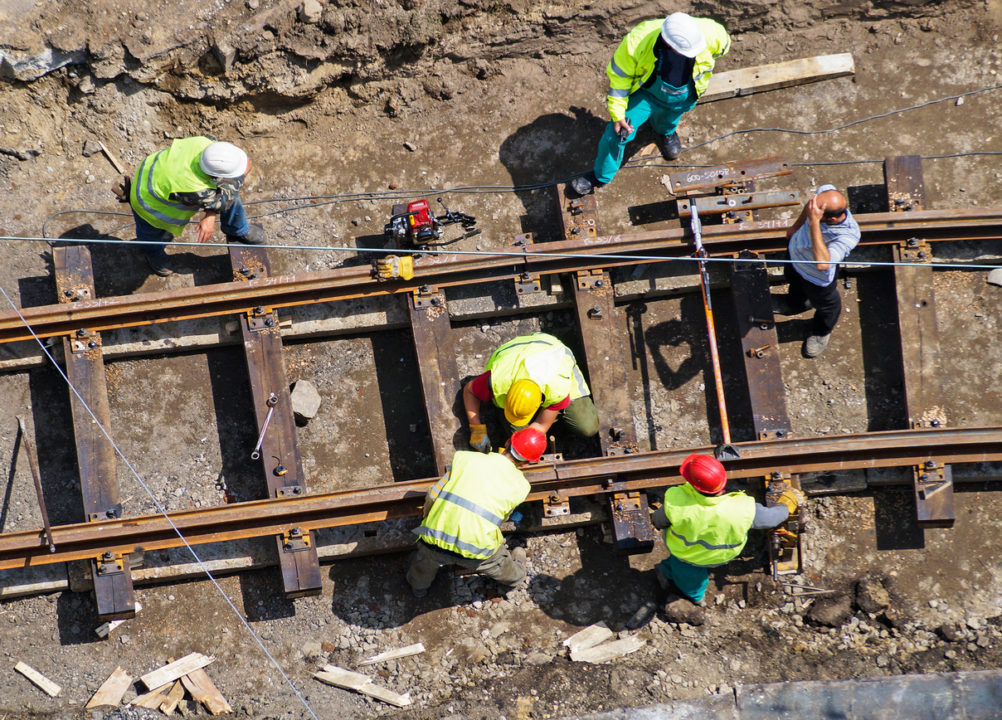 Our client worked as a labourer in the construction industry. His employer had loaned him out to other companies who were engaged in the demolition and renovation of railway stations in the Sydney region. Each day our client would attend work and be given instructions as to what his work would be for that day. On this particular day, he was instructed to assist others with the removal of demolished metal beams and guttering from the railway station. In order to get the heavy metal beams onto the truck for removal, a crane attached to the truck was used.  
This day it had been raining. Instead of going inside, the men were instructed to keep working. Our client was positioned on the truck and his job was to remove the slings from the load once the load had been dropped onto the truck by the crane operator. As luck would have it, on this particular day as the sling was being removed, the metal beams started to roll. Our client tried to get out of the way. Unfortunately his work boot slipped on the wet beam as he fell jamming his leg under the beam. He fell off the truck with his leg jammed. The whole weight of his body was taken by the trapped leg. He heard a loud snap and was in immediate pain.  
His fellow workmates came to his aid as he remained pinned under the steel. Eventually he was released and rushed to hospital by ambulance. In the accident, our client suffered complicated fractures to his leg as well as severe damage to his knee. Initially the leg had to be stabilised by the use of an external fixator. Then followed several operations on his leg carried out over the next several years. As a result of the injury, our client has ongoing pain and restricted movement in his leg. He has had to undergo a knee replacement. He has difficulty walking on uneven ground. He cannot climb. He is unable to run. He suffers from swelling in his leg and has a lot of difficulty bending the leg and squatting down. He has been told that he will need at least another two knee replacements during his lifetime. Following the accident, our client spent the next two years unable to do any work at all. Eventually he was able to start doing very light work which has resulted in a substantial loss of wages which will be ongoing for the rest of his working life.
Following the accident, his Union (CFMEU) asked the litigation team at Taylor & Scott to assist their member. We met with our client in hospital and advised him of his rights in respect to workers compensation and also advised him of his rights in respect to bringing a negligence claim against those responsible for his accident. We then set about investigating the claim and quantifying all of his losses. Because of the need to undergo several operations, it was necessary to delay the case until the full extent of his disabilities were revealed.
Eventually Simon Meigan, Partner and Accredited Specialist in Personal Injury, was able to launch a negligence case in the Supreme Court of New South Wales against the company responsible for our client's accident. The matter came to a settlement conference resulting in a very large payout to our client. This settlement compensated our client for his past, present and future wage loss up to retirement as well as compensation for loss of superannuation and the need to undergo future operations, together with a lump sum for his pain and suffering.
Taylor & Scott's Offer to You
If you are injured in a work related accident, Taylor & Scott will fully investigate your claim. If we act for you it will be on a no-win/no-pay basis meaning that Taylor & Scott are not paid any costs unless and until you win your case. Please contact our work injury negligence team by ringing 1800 600 664 or email us at info@tayscott.com.au And remember if you can't come to us, we will come to you either at hospital or your home.
Rest assured that our team of litigation experts will do everything they can to ensure that you receive maximum compensation for the injuries and losses that you have suffered.
At Taylor & Scott, We Care For You.