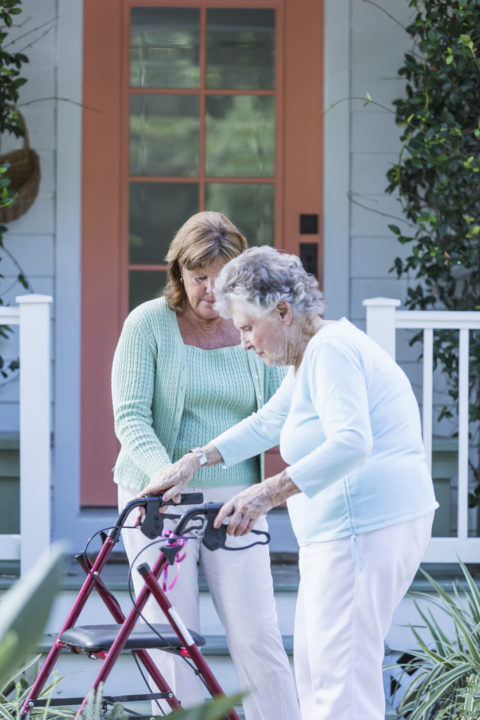 Our 90 year old client enjoyed outings with her son and daughter. A fiercely independent lady, she was able to maintain her own home and care for herself. An outing to the local shopping centre ended in "disaster" when our client and her daughter, who were walking arm in arm through the shopping centre, both crashed to the floor. Our client had slipped on food that had been dropped on the floor causing her to fall and drag her daughter to the floor with her. In the accident, our client suffered a broken hip and a broken shoulder.
Several days in hospital were followed by several weeks in a rehabilitation hospital. Upon her release, our client's daughter moved in to help her mum who needed to use a walking frame and now needed assistance to perform tasks that prior to the fall she was perfectly capable of doing.
Our client sought advice from the public liability team here at Taylor & Scott. Detailed instructions were obtained in respect to the fall and CCTV footage was secured from the shopping centre. Our team gave advice that both the owner occupier of the centre, as well as the cleaners of the centre, owed our client a duty of care to ensure that the centre was kept free of dangers such as food and rubbish being left on the floor.
Demands were made of the insurers for both entities considered at fault. Detailed medical reports were obtained and an expert Occupational Therapist was retained by Taylor & Scott to visit our client & assess her activities of daily living. This expert prepared a detailed report on the assistance that our client now needed as a result of the fall.
Because of our client's advanced years, we entered into settlement negotiations with the legal representatives of both the shopping centre owner occupiers and the cleaning contractors. We were able to negotiate a very satisfactory settlement of our client's public liability claim without resort to costly litigation.
If you or someone you know is injured in a fall in a shopping centre, you are welcome to contact our public liability team on 1800 600 664 or complete the contact form on this page.
We will provide you with legal assistance on a no-win/no-pay basis meaning that Taylor & Scott will not be paid any costs unless you are successful with your claim. If you are unable to come to us, we will make arrangements to visit you at a convenient location.
At Taylor & Scott, "We Care For You".