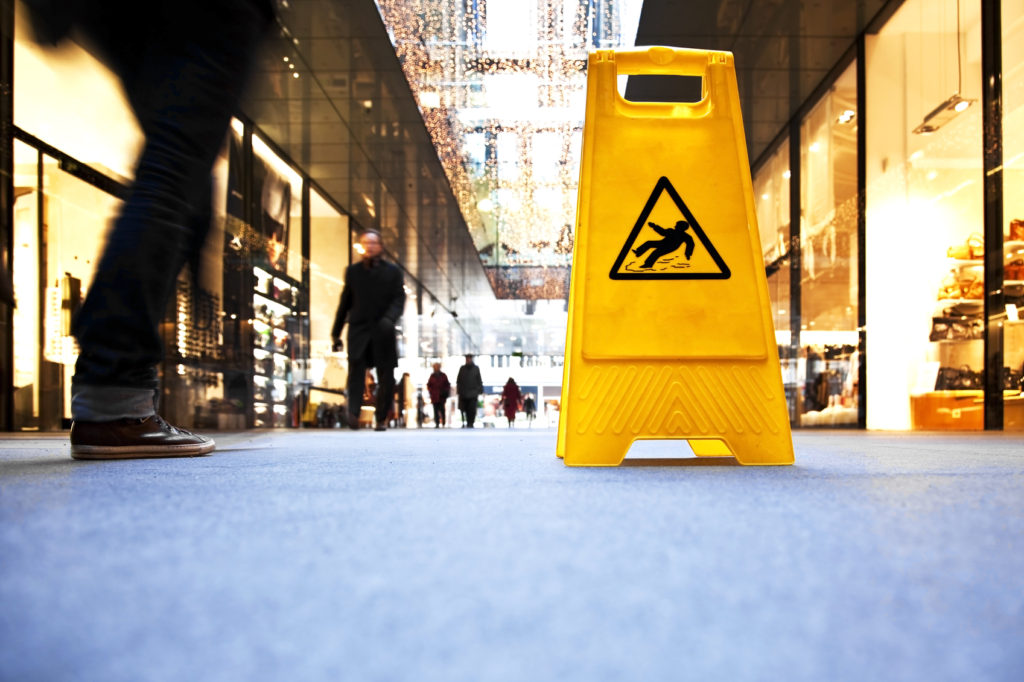 A trip to the local shopping centre is a day-to-day activity for most Australians. For some people, shopping is akin to a sport, for others, it's a necessary evil. Whether you love shopping or hate it, the shopping centre continues to draw a crowd with more than shopping on offer. Shopping centres are home to fresh food, cafes, restaurants and entertainment. In addition to leisurely browsing, visitors to a shopping centre can buy their fresh groceries, meet friends for a coffee or see a movie.
Few would associate a shopping centre with danger, especially when compared to other environments, but accidents, including slips and falls on wet floors or poorly maintained escalators are common. These types of accidents can all lead to serious injury and under the relevant legislation the Civil Liability Act 2002, an injured person may be entitled to compensation.
Shopping centres are considered public places, which means any compensation claims for injuries sustained there are known as 'public liability claims'. To make a public liability claim, the injured party needs to prove three things: duty of care; fault; and loss or damages. A shopping centre owes a duty of care to their customers. It is their responsibility to keep customers on their property, safe and free from undue harm. However, this does not mean that the shopping centre owners are liable for every accident that occurs on their property. A claimant will need to prove fault, which means showing that the shopping centre owners failed in their duty of care and the injuries resulted from an action or negligence on the part of the shopping centre.
Fault is perhaps the hardest condition to prove and the circumstances surrounding a shopping centre accident will be carefully scrutinized if a claim is made. Attention will also be given as to whether the accident was foreseeable and preventable. It is therefore important to follow certain steps after any incident at a shopping centre as details of the accident will be crucial to the outcome of a claim. If you are injured at a shopping centre, here are 7 things you should do after the accident to ensure you are prepared to make a compensation claim.
1. Report Your Injury
Depending on the seriousness of your injuries, ask for the store manager, centre management or security so that the incident is documented. Do not leave the scene as the cause of the accident may be cleaned up or removed during your absence, instead ask someone else to call or fetch personnel. It is important that your injury is recorded in a detailed incident report which should include the date and time of the incident, nature of the accident, cause, a description of the injury, your contact information and any other relevant details. It is important to clearly identify the cause of the accident, such as spilt liquid or a loose tile.
2. Seek Medical Assistance
Medical records can be used as evidence when making a claim so it's important to seek medical attention as soon as possible. In some cases, a serious injury may require paramedics and admission to hospital. Be sure to obtain medical reports from your doctor or the emergency room doctor who attends to you, as well as any scan or x-ray results. These will contain detailed information on the extent of injuries, prognosis and recovery. These are also important to prove the injury was a direct result of the shopping centre incident and not a pre-existing injury.
3. Take Photographs or Videos
If you can, grab your phone and take pictures of the accident scene as soon as possible. It's likely that the shopping centre will quickly attend to the scene to prevent further injuries so you want to be sure to make a record of the scene before this occurs. If the accident was caused by liquid on the floor, take pictures of the liquid and surrounding area before it is cleaned up. If the floor was recently cleaned and slippery with no warning sign, then be sure to take a picture of the surrounding area and lack of warning. Videos may also be helpful to show context and prove fault on the part of the shopping centre. In addition, images of the injuries can also be used as evidence.
4. Obtain Witnesses Details
Witnesses will prove valuable when making a claim. Record the contact details of anyone who witnessed the incident and ask them to describe what they saw. It's best to find a witness who isn't a friend or relative.
5. Check for Surveillance Cameras
Although you can't always see them, surveillance cameras are fitted throughout shopping centres. Ask security or centre management to check surveillance footage and see if your accident was caught on camera.
6. Keep Medical Bills and Receipts
An injury at a shopping centre could result in significant costs. Medical expenses may include expensive consultations with medical specialists, ambulance costs, equipment like crutches or strapping tape and medication. Following an incident at a shopping centre it will be important to keep all medical bills and receipts. These will be necessary when proving loss and damages.
7. Seek Legal Advice
A legal professional can advise what you are entitled to and if you are eligible to make a claim against the shopping centre. Taylor & Scott Lawyers make it easy to get in contact with their free 40-minute case assessment. During this initial consultation an accredited personal injury lawyer will review the facts surrounding your case. Taylor & Scott have been assisting injured people for over 110 years with a proven track record. They offer their no-win no-pay basis for public liability claims. It is important to note that you only have three (3) years from the date of the incident to commence court proceedings.
If you've been injured at a shopping centre, speak to the compensation law experts at Taylor & Scott Lawyers.
What exactly can I claim shopping centre fall compensation for?
Slip and fall accidents are common in shopping centres. You have a right to feel safe when visiting a shopping centre and centre management has a duty of care toward all visitors. If you have been injured due to negligence or failure to ensure safety, you may be able to claim public liability compensation. What you can claim is dependent on the nature of injuries suffered, with compensation generally available for:
Medical expenses, ambulance travel, hospital stays and visits to your treating doctor;
Past, present and future loss of earnings;
Care and assistance provided by family, friends or others;
Pain and suffering and loss of enjoyment of life.
In the majority of public liability injury claim cases, a monetary value will be determined according to your life path before and after the accident. However, if the accident occurred due to your own contributory negligence, or failure to act prudently, your claim potential may be diminished or the claim rejected entirely.
How quickly will you receive compensation?
This will depend on the extent of injuries, treatment required and the time it takes for serious injuries to stabilise without expectation of further improvement. Taylor & Scott Public Liability Lawyers will guide you through the compensation claim process and keep your claim moving through the legal system.
We will collate medical and legal records, procure witness statements, interview experts, communicate with insurers and present a comprehensive claim case for a timely result and best possible claim outcomes. Strict time limits apply for public liability slip, trip or fall claims, so you should contact Taylor & Scott as soon as possible if you have been injured in a shopping centre fall.
Why choose Taylor & Scott Lawyers for your shopping centre fall compensation?
Taylor & Scott are among the most highly regarded legal firms in Australia. We have been serving the people of Sydney and NSW since 1905 with case winning success, and our personal injury lawyers are accredited specialists who aren't afraid to take on major insurance companies to get you the compensation settlement results you expect.
We are known for our caring, considerate and confidential approach, and your specialist Taylor & Scott Compensation Lawyer will support you for the entire duration of your personal injury claim. If you choose us as your representative we will commence immediately on your behalf. We offer a no-win no-fee guarantee that allows you to withhold all client/lawyer fee payments until your shopping centre fall compensation case is won.
At Taylor & Scott, We Care For You.