Slip, Trip or Fall Accidents
Slip, trip or fall accidents and injuries are extremely common, and apart from embarrassment, injuries can be sustained that are ongoing or permanent, greatly impacting quality of life. Effects of injury are noticed in all areas, from difficulty performing simple domestic duties to adjustments in work capacity or capability. Attaining compensation to cover slip, trip or fall losses is justified, particularly if the injury is the result of negligence or oversight in duty of care by someone else. Compensation may be available by pursuing a public liability claim, and choosing the right legal team for representation of your case is important.
How can compensation lawyers help with a slip, trip or fall injury?
A successful public liability claim is made by establishing fault in the person or organisation overseeing facilities where the accident occurred. Compensation payments are dependent on the extent of injury plus ongoing effects, and building a strong claim is the best way to achieve optimum claim damages. Taylor & Scott Lawyers have been winning cases for clients since 1905, and being well known as public liability lawyers with influence, we are rightly placed to guide your claim process from start to successful finish. Slip, trip or fall compensation covers economic and non-economic loss, including:
Loss of income; past, present and future
Medical expenses and hospital costs
Ongoing care and nursing arrangements
Payment for pain and suffering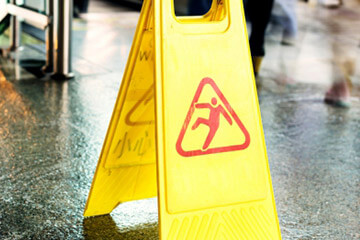 How do I know if I qualify for fall injury compensation?
Public liability compensation covers an extensive range of locations where accidents can happen. Every situation is different, and anyone who frequents shopping centres or other popular public places will encounter minor, major and possibly tragic accidents or incidents. Wherever a slip, trip or fall accident happens in public, a public liability claim may be possible. Common claim scenarios include:
Injuries while at the supermarket
Injury in a shopping or tourist precinct
Injuries occurring in a car park
Injuries in rental accommodation
Schoolyard and sporting injuries
There are exceptions, such as injuries incurred during any phase of air travel, requiring different aircraft travel insurance and compensation claim pathways. To make things easier all-round, Taylor & Scott Lawyers offer a free case assessment and the famous no-win no-fee guarantee. Put into context, this means that Taylor & Scott will back your case all the way if there is a reasonable chance of a successful claim, without you having to pay a cent until the case is won and compensation has been paid.
What results can I expect from compensation lawyers?
Long-established lawyers such as Taylor & Scott fulfil the need to protect the rights of individuals. This service is no more graphically illustrated than in our approach to assisting all slip, trip or fall victims with valid claims for compensation. If the claims only involved filling in a few forms and waiting for payment, you probably wouldn't need us at all, but law is complex and often deceptive; that's why we are here to care for you. Our assistance is on-hand and ongoing for the duration of your claim's case, with services that include:
A free, confidential and comprehensive consultation and case assessment
Building your case; compiling documents, evidence, reports and more
Present your case for examination by legal insurance representatives and other parties
Enter into negotiations with opposing persons, organisations, or their legal team.
Proceed to trial with a winnable case if negotiations reach a stalemate
It's worth remembering that you are obliged to be treated with a duty of care by individuals or organisations. The obligation and onus is on them to provide an environment where risks are minimised and harm is prevented. If negligence results in injury, suffering or loss, you have every legal right to make a public liability claim for damages. When you are ready and it's time to take action, Taylor & Scott compensation lawyers are right by your side.
At Taylor & Scott Lawyers "we care for you"