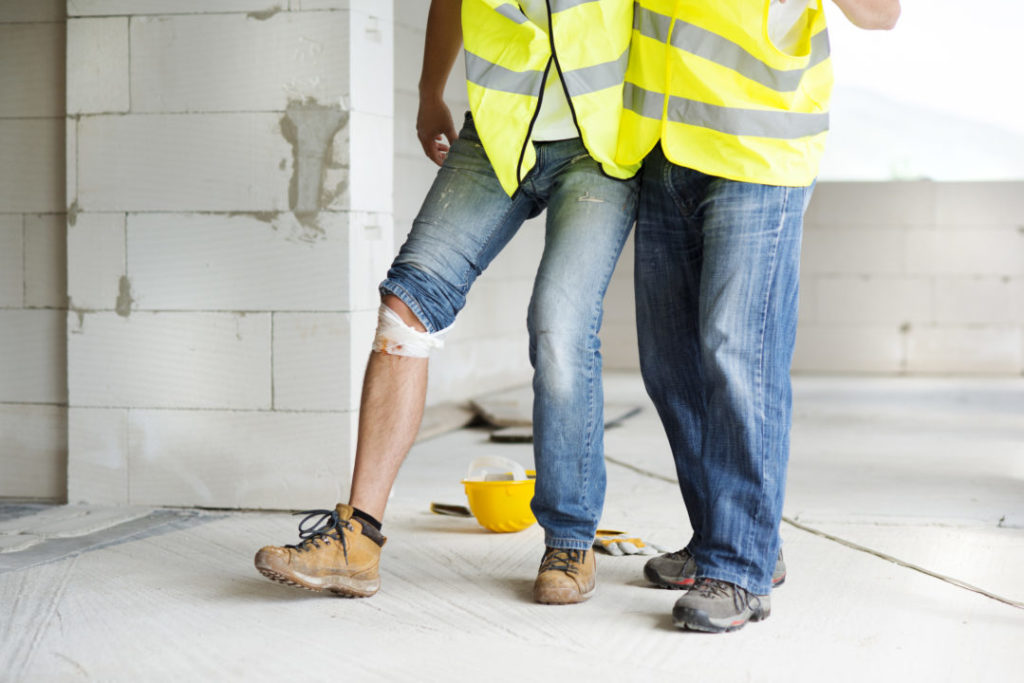 Our client has spent his life labouring in the construction industry. On this particular morning, it was very cold and icy. A team of men had been sent to the roof of a new construction to continue with the work. At one point, our client was directed to climb down from the roof using the scaffolding stairs. As our client came down the stairs, his feet shot out from under him.  He grabbed the railing to prevent himself from falling down the stairs. Unfortunately, in doing this, he suffered a very severe injury to his knee. Looking closely at the metal stairs, our client noticed ice and dew on the treads which had been the cause of his accident.  He was wearing his proper safety boots and hard hat at the time of his accident.
Following the accident, he was in serious pain. He reported the accident to the boss and then rested in the sheds and at the same time iced his knee in an attempt to reduce the swelling. At the end of the day, his employer insisted on him visiting the company doctor. This doctor referred him to a specialist orthopaedic surgeon for further treatment. He underwent MRI scanning and a course of physiotherapy followed. His specialist injected cortisone into the knee, but this only provided short-term relief.
Having rested for four weeks, our client attempted to get back to work on light duties. Unfortunately, the boss' idea of light duties meant that our client was required to carry heavy concrete blocks up and down an embankment. As our client attempted to do these duties, his knee gave way. Some other duties were found, but eventually, he was made "redundant" by his employer. Needless to say, since being made redundant he has found it impossible to obtain work as a labourer who is only capable of performing very light duties.
Our client's knee did not improve. His specialist performed an arthroscopic debridement of his knee. This surgery failed, and our client was stuck with a very dodgy knee and in constant pain. Eventually, there was no alternative other than to undergo a total knee replacement.
Following the knee replacement, our client has undergone intensive physiotherapy and hydrotherapy. He is now left with constant pain, discomfort and restricted movement in his knee. He has great difficulty negotiating stairs and has to walk sideways up and down, holding onto the railing. He can't lift and carry anything heavy. He can't kneel or squat.  Walking any distance causes an increase in pain. Before his accident, our client loved swimming and surfing and playing actively with his grandchildren. He can no longer do any of these activities. Trying to work around the house doing the garden and lawns is now beyond him.
HOW TAYLOR & SCOTT LITIGATION LAWYERS ASSISTED THEIR CLIENT
Having been referred to Taylor & Scott by his Union, Ray McClenahan, Managing Partner and one of NSW's leading workers compensation lawyers, arranged a free face to face meeting with his client. Ray took extensive instructions in respect to the accident and in respect to his client's subsequent treatment and the effects of the accident on both his working and social life. Ray then very carefully explained to his client his rights under the workers compensation laws here in NSW. Ray ensured that his client was being paid at the correct rate and ensured that all treatment accounts were covered by the workers compensation insurer.  Ray then arranged for his client to be examined by a senior orthopaedic specialist here in NSW in order to ascertain his client's whole person impairment following the knee replacement surgery. Ray then proceeded to obtain a lump sum payment under section 66 of the Workers Compensation Act for this permanent impairment.
WORK INJURY DAMAGES NEGLIGENCE CLAIM LAUNCHED
Following the section 66 claim, Ray asked his Senior Associate, Michelle Meigan, to pursue a work injury damages claim for the injury sustained on the icy stairs. Michelle is a highly experienced compensation and negligence lawyer here at Taylor & Scott. Michelle met with her client and provided him with a plan for the work injury damages claim. She undertook the case using Taylor & Scott's no-win/no-pay fee agreement meaning that our client did not have to pay any costs whatsoever unless and until he won his case.
SUCCESSFUL OUTCOME OF WORK INJURY DAMAGES CLAIM
Having dealt with all the issues raised by the lawyers acting for the insurance company, Michelle then arranged a mediation of her client's case. We are pleased to report that Michelle has successfully concluded her client's case by securing for him a substantial lump sum settlement which compensates him for his loss of wages and superannuation right up to retirement.
TAYLOR & SCOTT LITIGATION LAWYERS' OFFER TO YOU
If you, a member of your family, your workmate or friend suffers an injury at work which results in permanent disability and affects your ability to work, we invite you to contact the experts here at Taylor & Scott Work Injury Damages Lawyers. Our team has been assisting injured workers here in NSW for over 100 years. In every case, we offer a free face to face case assessment. If we act for you, we will utilize our no-win/no-pay fee agreement meaning you pay Taylor & Scott no costs whatsoever unless and until you win your case.
Our expert lawyers are leaders in their field. You can trust Taylor & Scott Litigation Lawyers to do everything they can to ensure that you receive maximum compensation for your injuries.
Please ring us on 1800 600 664 or email us at  info@tayscott.com.au
At Taylor & Scott, we care for you.