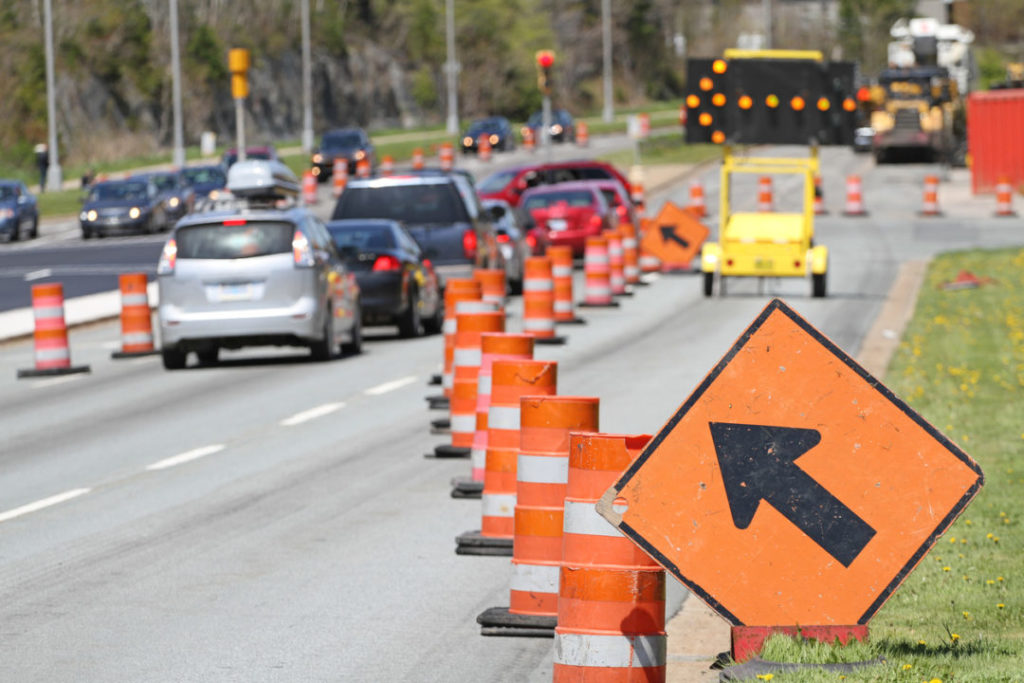 Our client was employed by a company performing traffic control duties. Her company had a contract to undertake roadworks in various parts of New South Wales. On many occasions, our client worked through the night performing her duties. On this particular evening she was performing her traffic control duties on the Hume Highway. Her duties involved the setting up of traffic cones, blocking off areas, maintaining access for heavy vehicles, operating Stop/Go signs, handling other various signages, lifting and carrying sandbags and co-ordinating the traffic plans whilst the roadworks were being carried out.
On one particular evening she started work at around 6.00 p.m. Part of her job on this evening was to erect a traffic arrow sign which had been installed on a utility vehicle owned by her employer. The sign had been welded to the vehicle and in order to erect the sign, she entered the cabin of the vehicle to operate the hydraulic struts. On this evening, the hydraulics were not working. She reported the defect to her supervisor and to the head contractor. She was met with "it's not my problem, work it out for yourself".
She had no assistance and therefore had to try and manually lift the sign up from the tray off the ute. The ute was full of other equipment so she had to stand on the side of the tray and use one arm to raise the sign up. As she attempted to lift the sign, it slipped from her grasp and crashed down onto her arm, crushing her arm and hand. She tried to and eventually was able to extricate herself from under the sign and as she jumped down onto the roadway from the truck, she lost her balance and suffered a further injury to her back.
She reported the accident and was taken to hospital. After two days in hospital and not having had her injuries properly treated, she discharged herself and headed to another hospital where surgery was performed.
Following the healing of her wounds, she required intensive physiotherapy on her arm, shoulder and back. She was diagnosed with a regional pain syndrome and has needed several nerve block injections to deaden the severe pain she is experiencing.
Because of her ongoing pain, she has developed depression. A number of procedures have been undertaken to try and relieve her pain but to no avail. She now requires constant pain medication, her sleep is severely interrupted and she has had to give up all hope of returning to the work she loved. Being determined to get back into the workforce, she has obtained a very light sedentary job with a severe drop in weekly pay.
HOW TAYLOR & SCOTT COMPENSATION LAWYERS HELPED
Not knowing what to do, she turned to the experts in workers compensation and work injury damages claims here at Taylor & Scott. Simon Meigan, Partner and Accredited Specialist in Personal Injury, and his team, ensured that her workers compensation rights were in order. Claims were made to ensure that all necessary medical treatment, including pain management that was required, was covered by the workers compensation insurer.
Eventually Simon was able to obtain an assessment of his client's whole person impairment which was over 15% thereby opening the gateway for Simon to launch a work injury damages claim on his client's behalf suing her employer for negligence and claiming her loss of income up to retirement age.
OUTCOME OF THE WORK INJURY DAMAGES CLAIM
We are pleased to report that following mediation of the claim, Simon has been able to secure a very substantial settlement in favour of his client ensuring that her financial losses up to retirement age have been awarded to her in one lump sum payment.
TAYLOR & SCOTT'S OFFER TO YOU
If you are injured in a work accident, you can trust the team of expert lawyers in workers compensation and work injury damages claims here at Taylor & Scott. All workers compensation claims are conducted with a grant of legal assistance from WIRO and all work injury damages claims are conducted on a no-win/no-pay basis meaning you don't pay Taylor & Scott any costs whatsoever unless and until you are successful with your claim.
Our team are ready willing and able to help you with professional legal advice no matter where you are in New South Wales. Please ring 1800 600 664 or contact us at info@tayscott.com.au. Our promise to you is to ensure that you receive maximum compensation for your injuries and disabilities.
At Taylor & Scott, We Care For You.