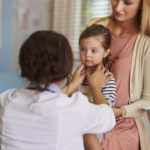 Our client's mum made an appointment to see our motor accident compensation specialist lawyers when she became dissatisfied with the lawyers she had previously retained.
At the conference, our client advised that her young daughter had been a passenger in a motor vehicle being driven by her dad when it was involved in an accident. At the time, dad had been stationary in a line of traffic when struck from behind by another vehicle.
In the accident, the young girl had suffered a whiplash type injury to her neck. As a result she had been complaining of pain and stiffness in her neck and had needed physiotherapy on numerous occasions to relieve her symptoms.
The Police had investigated the accident and a motor accident claim form had been lodged with the motor accident insurer.
The little girl's parents had become dissatisfied with the original lawyers complaining that they didn't seem to be very interested in their daughter's claim because it was a relatively "minor" claim. Frustrated that they weren't being listened to, they turned to Taylor & Scott's experts in motor accident personal injury claims.
At the meeting with the mother, our team provided detailed advice as to what they would do to prosecute the claim and to ensure that all entitlements to compensation were claimed for her daughter.
Medical reports were sought from the little girls' treatment providers and all were carefully reviewed to ensure that every aspect of her injuries and disabilities were thoroughly examined. Ultimately our team were then able to arrange a settlement conference with the greenslip insurance company. A settlement of the claim was reached and the parents were very happy with the outcome.
Because the child was an infant, that is under 18 years of age, the settlement had to be approved by a judge of the District Court. Arrangements were made for the matter to be listed before a judge. Affidavits were prepared and all medical information was provided to the judge for his careful consideration.
The judge concluded that the settlement was appropriate and the money will now be held in trust until the little girl turns 18 years of age.
If a young person in your family is injured in a motor vehicle accident, you can trust our team of motor accident personal injury law specialists to do everything they can to ensure that your child receives maximum compensation.
Please phone us on 1800 600 664 or email us at info@tayscott.com.au. If you are unable to visit one of our offices, we will be happy to make arrangements to come to you to discuss your child's claim.
At Taylor & Scott "We Care For You".