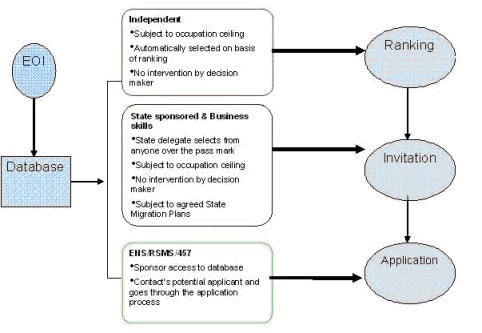 EOI (expression of interests)
If you want to migrate to Australia as a skilled migrant, there are some new visas for which you will need to submit an Expression of Interest (EOI) in SkillSelect.
You will receive an invitation to apply for the visa you are interested in once your EOI has been reviewed by a sponsor or ranked by SkillSelect.
TAYLOR AND SCOTT HAVE EXPERIENCED MIGRATION LAWYERS WHO CAN HELP YOU ACHIEVE THE BEST RESULT FOR A SKILLED MIGRATION APPLICATION IN THIS NEW SYSTEM.
We can:
advise you on the most advantageous visa option,
advise which occupation you should nominate,
check and advise your visa status, since EOI is not a visa application, as such you will not be granted a bridging visa after you submit an EOI,
prepare and arrange for your skill assessment,
update the EOI on your behalf as you upgrade your work experience,
assist you in the application process once you receive an invitation.
SkillSelect
Effectively, you will not be able to apply for a permanent visa unless you have been invited by the Department of Immigration and Border Protection.
Importantly, since the EOI is NOT a visa application, you need to ensure that you have a valid visa. You will NOT be granted a bridging visa based on lodging an EOI.
From 1 July 2012, if you are interested in the following visas, you will need to submit an EOI and receive an invitation before you can apply for a visa:
• Subclass 189 Skilled – Independent (Permanent) (Class SI)
• Subclass 190 Skilled – Sponsored (Permanent) (Class SK)
• Subclass 489 – Regional Sponsored (Provisional) (Class SP)
• Business Skills visa program.
You can also express interest in the following visa programs on your EOI to be selected by an employer. However, this is not compulsory.
• Subclass 186 – Employer Nomination Scheme (ENS) (Class EN)
• Subclass 187 – Regional Sponsored Scheme (RSMS) (Class RN)
• Subclass 457 – Temporary Business (Long Stay) (Class UC)
Lodging an EOI
While you don't need to submit documents supporting your claims when you submit your EOI, you must have a range of information prepared.
For example, for an independent skilled visa you must have:
completed a skills assessment and/or a job ready program.
taken an English-language test to prove you meet the English language requirement.
Occupational ceilings
An occupational ceiling may be applied to invitations issued under the independent, family sponsored or state/territory sponsored visas. This means there will be a limit on how many EOIs are selected for skilled migration from an occupational group.
Once this limit is reached, no further invitations for that particular occupational group will be issued for that program year. Invitations would then be issued to other EOIs even if they are lower ranking. For the state and territory sponsored visas, a state or territory will not be able to nominate you if your nominated occupation has reached its occupational ceiling. Please visithttp://www.border.gov.au/Trav/Work/Skil for regularly updated information on occupational ceilings for each program year.
Threshold Requirements
You must have been invited to apply for a visa under SkillSelect.
You must be under 50 years of age at the time of invitation.
You must have at least competent English.
Your score under the points score test is not less than the pass mark.
Your score under the points score test is not less than that stated in the invitation to apply for a visa.
You must have a satisfactory skills assessment for the nominated occupation from a relevant assessing authority.
Independent (Subclass 189) visa
You must nominate an occupation closely related to your skills and qualification from the Skilled Occupation List (SOL). After you satisfy the threshold requirements and achieve the pass mark, you must submit an EOI. Invitations will be issued automatically to the highest ranking EOIs subject to occupational ceilings. Invitations are issued on a monthly basis or more, without the actual involvement of the staff in the selection/invitation process.
State and territory nominated (Subclass 190) visa
The nominated occupation must be closely related to your skills and qualification from CSOL and must be endorsed by each State or Territory government as part of State Migration Program. Once you have attained the pass mark including the points for state nomination, you must submit an EOI and then lodge an application for nomination with a relevant State or Territory government.
State/Territory governments can and do formulate there own assessment criteria when nominating potential applicants. If satisfied, State/Territory governments will access SkillSelect and nominate you. You will then receive an invitation, subject to occupational ceilings.
Upon the grant of this visa, there are a number of obligations you must comply with :
To remain in the nominating state or territory for at least 2 years.
To keep the nominating state or territory informed of changes in your address details before and after arrival.
To be prepared to complete surveys and provide information as required.
To meet any other requirements of the nominating state or territory.
Provisional Regional Sponsored (Subclass 489) visa
This is a provisional visa option which allows you to stay in Australia for up to 4 years subject to some conditions. This provides a pathway to permanent residence for visa holders.
The additional requirement for this visa is that you must be either sponsored by an eligible Australian relative living in a Designated Area or nominated by a participating state or territory government.
It must be noted that you must nominate an occupation on the SOL to access Subclass 489 visa for sponsorship by a relative whereas you may nominate an occupation from the CSOL for state nomination under Subclass 489 visa.
Once you have been granted this visa, you must abide by the conditions that you will continue to live, work and/or study in a Designated Area, Regional Australia or low population growth area.
This visa option will lay down a pathway to permanent residency through a Skilled – Regional (Subclass 887) visa subject to its own criteria (You must live for 2 years and work full-time for at least one year in a Designated Area or Regional Australia).
Business Skills visas
The business skills visa program is currently under review. Further details about the invitation process for these visas will be available in the coming months.
Employer sponsored visas
Employers can search for and locate skilled workers that they want to discuss job opportunities with. If you are contacted by an employer in SkillSelect, you can choose to respond to them to discuss employment and visa opportunities. You do not need to receive an invitation to apply for an employer sponsored visa.
When you submit an EOI for one of these visas, you will be asked which State or Territory you are interested, living and working. You will be able to select one or more state or territories, or any state or territory.
60 days to apply once invitation is issued
If you receive an invitation from SkillSelect, you will then have 60 days to make a valid visa application online, before the invitation expires. Applications received outside this timeframe will be invalid. Thus, it is important to have the relevant tests (language), assessment (qualification) completed at an earlier stage.
At Taylor & Scott " We Care For You."