Australian immigration law covers a wide variety of visa applications and migration scenarios. The complex rules and regulations are constantly evolving, and some people can't easily understand Australian migration law, making Taylor & Scott Immigration Lawyers Newcastle the best way to cut through the confusion.
Where can I speak to an immigration lawyer in Newcastle?
Located at 406 King St, Newcastle West, NSW, Taylor & Scott are leading lawyers worth investigating. Established in 1905, and with a case winning record all around Sydney and NSW, Taylor & Scott Lawyers, including highly experienced immigration lawyers, continue to serve the people of Newcastle and visitors to Australian shores.
What does an immigration lawyer do?
A capable and qualified immigration lawyer understands visa and immigration law inside-out. The numerous and specific Australian visa types each have their own requirements for satisfying Australian migration law. Your immigration lawyer in Newcastle will steer you through the process, and help you overcome any obstacles that arise along the way.
An immigration lawyer will ensure your visa application is being processed as seamlessly as possible. Your lawyer will act for you in dealing with the Department of Home Affairs or represent you before a reviewing authority and/or courts if your case has stalled, allowing you to fulfil your immigration goal. Here are just a few ways immigration lawyers can assist.
Visa application preparation, cancellation, review and advice;
Preparing proceedings for court or review authority in relation to the visa application;
Representing the visa applicant in court or before a review authority;
Assisting with sponsorship documents and applications.
Taylor & Scott Lawyers have been serving the people of Sydney and NSW since 1905, and we continue to lead the way with our case winning record.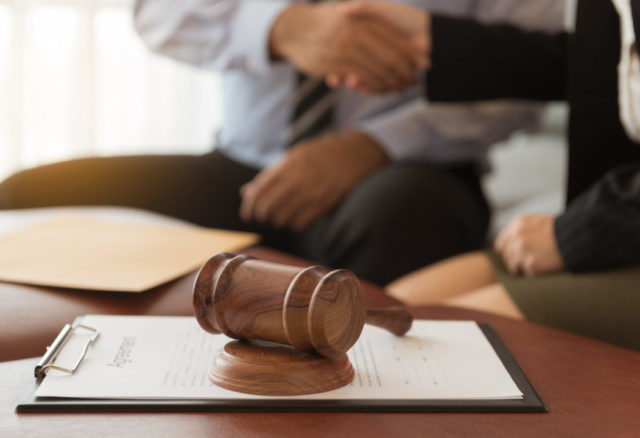 Should I use an immigration lawyer?
In Australia, any person giving immigration assistance must be registered with the Office of the Migration Agents Registration Authority (OMARA) as a registered migration agent unless exempted. As a leading law firm, Taylor & Scott Lawyers have experts in numerous areas of law including, a highly qualified and experienced immigration lawyer in the team ready to assist you every step of the way.
Most visa applications can be straight-forward, but complications may arise and solutions are required for sorting things out. Team up with a Taylor & Scott immigration lawyer who is also a registered migration agent with the OMARA.
What type of Visa applications can Taylor & Scott assist with?
We assist with all types of visa applications. The services our Immigration lawyer can offer in the greater Newcastle region include assistance with employer sponsored visas, Australian migration assistance, working visas, student visas, business visas, family visas and all other categories.
It's understandable that immigration lawyers are in demand in Australia, one of the world's most multi-cultural and multi-racial countries. If you are searching for visa or migration assistance, get in touch with Taylor & Scott Lawyers for a consultation at an affordable rate and the best possible assessment of your situation.
How can an immigration lawyer make your immigration case seamless?
Immigration cases can be daunting for anyone, and non-English speakers without experience of Australian law can be seriously disadvantaged. Taylor & Scott immigration lawyers in Newcastle offer a compassionate and understanding approach with the highest professional standards, and will give you a greater chance of immigration success.
With a highly qualified and experienced immigration lawyer on your side, you can focus on your future while simultaneously overcoming visa obstacles and meeting application deadlines. Your Taylor & Scott immigration lawyer will help make the entire process more bearable.
How much does it cost to hire an immigration lawyer?
There are major advantages of hiring a Taylor & Scott immigration lawyer, and with your future possibly at stake it's no time to avoid legal representation. During your initial consultation your Taylor & Scott immigration and visa consultant will weigh up your chances of visa or immigration success. If we believe you have a good chance, we can offer tailored and personalised services to help you reach your goal.
Visa application fees are set according to visa category, although a lot of money can be wasted following the wrong migration or visa pathway and having to reapply. Taylor & Scott Lawyers offer broad ranging immigration related legal services with a proven track record of success.
At Taylor & Scott, We Care For You.