Australian immigration law includes complex legislation, rules and regulations that are continually developing. Taylor & Scott Immigration Lawyers Wollongong cut through the confusion, offering accurate and timely advice that clients can easily understand.
Where can I speak to an immigration lawyer in Wollongong?
Taylor & Scott are leading Wollongong lawyers and solicitors who understand the needs of regular Australians and people hoping to migrate to Australia. We are located in the heart of Wollongong, close to the railway station and bus terminal at 1 Lowden Square, Wollongong NSW.
There are numerous Australian visa types, each with their own specific requirements for satisfying Australian migration law. Your registered migration agent and Taylor & Scott immigration lawyer in Wollongong will help you expediate the entire process.
What does an immigration lawyer do?
An immigration lawyer will ensure your visa application is being processed as quickly as possible. Your lawyer can represent you if your application has stalled, and we make sure your case doesn't fall through any cracks in the system. Here are just a few ways immigration lawyers can assist.
Visa application preparation, cancellation, review and advice;
Preparing for court or review authority proceedings in relation to the visa application;
Representing the visa applicant in court or before a review authority;
Assisting with sponsorship documents and applications.
Taylor & Scott Lawyers have been assisting the people of NSW since 1905, and our case winning record is a feature of the Wollongong landscape.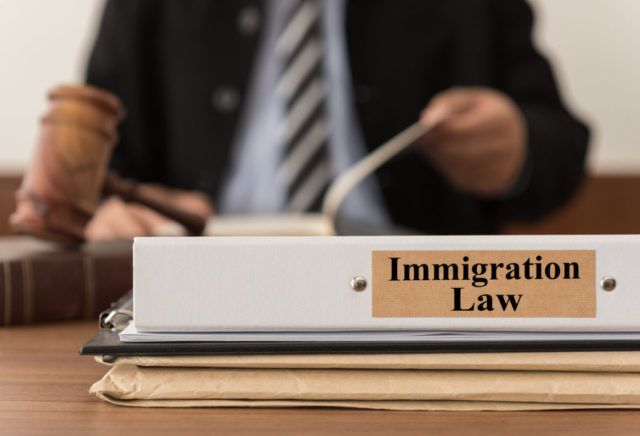 Should I use a migration agent or immigration lawyer?
The choice is up to you, although it's worth knowing that many immigration lawyers are also registered migration agents, including Taylor & Scott professionals. In addition, the Migration Act 1958 doesn't prohibit a lawyer from giving immigration legal assistance.
Most visa applications are relatively straight-forward, but when complications arise and solutions are required it makes sense to get the best of both worlds. Team up with a Taylor & Scott migration lawyer who is a registered migration agent with the Office of the Migration Agents Registration Authority (MARA).
What type of visa applications can Taylor & Scott assist with?
We can assist with all types of visa applications. Our legal services in Wollongong include assistance with employer sponsored visas, Australian migration assistance, working visas, student visas, business visas, family visas and all other categories under the migration law act. We assist visitors to Australia, people hoping to move permanently to Australia, and Australian citizens and employers sponsoring visitors to our shores.
Can an immigration lawyer expedite an immigration case?
Immigration cases are daunting for people without experience of Australian law. As migration agent Wollongong specialists, Taylor & Scott Lawyers are dedicated to getting the results you hope for, in a time frame that suits your migration transition.
There can be countless reasons for a person to give up on an immigration case that is delayed or stalled, and having a highly qualified and experienced immigration lawyer on your side will help you overcome obstacles, meet deadlines and speed up the entire process.
How much does it cost to hire an immigration lawyer?
There are several advantages of hiring a Taylor & Scott immigration lawyer. We offer an obligation-free consultation prior to you taking up our services, and we are up-front and honest regarding your chances of visa success. This information alone can save you time and money by avoiding a drawn-out visa dispute.
Visa application fees are set according to visa category, although a lot of money can be wasted following the wrong migration or visa pathway and having to reapply. Taylor & Scott legal services have broad scope, and our team of lawyers are qualified, experienced and dedicated, so you can be certain your case is in the best possible hands for a cost that is fully explained up-front, and with the best possible chance of a winning outcome.
At Taylor & Scott, We Care For You.