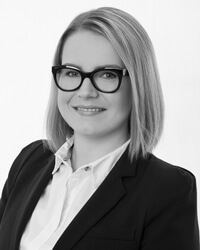 Associate

Email: info@tayscott.com.au
Phone: (02) 9265 2500
Fax: (02) 9265 2555

Firm service areas: Family Law

Offices: Sydney

Lotte Callanan joined Taylor & Scott in 2015 in the family law department after working for a number of years as an Associate to a family law judge in the Federal Circuit Court of Australia, where a great majority of family law matters are now heard. Her areas of practice include divorce, parenting, property and child support.
Lotte was admitted to the Supreme Court of NSW in February 2013 after completing a Bachelor of Arts in Communication (Social Inquiry) and Bachelor of Laws at the University of Technology, Sydney. Whilst studying, she developed her interest in family law and in 2011 received the Lexis Nexis Award for best performance in Family Law. In 2015, Lotte completed a Master of Applied Laws (Family Law) through the College of Law NSW, which rigorously tests a solicitor's ability in all aspects of practice including advocacy, drafting and knowledge of the law.
Lotte's experience working at the court gives her a unique perspective and understanding of court processes, rules and procedures, as well as how to effectively and efficiently conduct family law cases in what can be a difficult and emotional time for clients. Although Lotte has significant day-to-day experience within the court, she is also dedicated to assisting clients in settlement negotiations and, where possible, resolving matters without the need for litigation.
Lotte is the current Chair of the NSW Young Lawyers Family Law Committee, which organises continuing professional development in the area of family law, monitors and responds to proposed changes to family law legislation and provides a forum to network and raise awareness on issues of relevance to young family lawyers.
Lotte is also member of the Law Society of NSW and the Law Council of Australia (Family Law Section).
At Taylor & Scott "We Care For You."