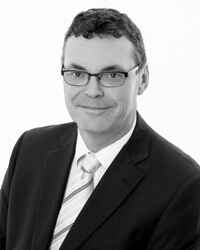 Managing Partner

Email: info@tayscott.com.au
Phone: (02) 8737 4500
Fax: (02) 8737 4555

Firm service areas: Compensation, Litigation and TPD

Offices: Parramatta, Newcastle, Bathurst and by appointment at home or hospital

Qualifications and Admissions
Bachelor of Arts/Bachelor of Laws
Solicitor of Supreme Court of NSW
Solicitor of the High Court of Australia
Accredited Specialist in Personal Injury
Honorary Solicitor to St. Vincent de Paul Society
Expertise and Practice Areas
Compensation
Litigation
Superannuation Law (TPD and Income Protection Claims)
Memberships and Industry Participation
Law Society of New South Wales
2020-2021 Doyles Guide – Recommended "Leading Work Injury & Compensation Lawyers (Plaintiff) – NSW"
Bio
Ray McClenahan is the Managing Partner at Taylor & Scott Lawyers. After joining the firm in 1989 as an Associate, he was made partner in 1991, before taking on the role of Staff Partner in 1997, and more recently, Managing Partner in 2018.
As a Partner, Ray manages the Workers Compensation and Superannuation dispute teams at Taylor & Scott. His primary work involves Workers Compensation, Total and Permanent Disability and income replacement disputes. Ray is recognised by the Law Society of NSW as an Accredited Litigation Specialist.
In his role as Staff Partner, Ray is responsible for coordinating and liaising with other Partners regarding issues of work performance, salary reviews and all other personnel and work-related staff matters. As Managing Partner, he oversees all divisions of the firm and externally manages relations with clients, financial institutions and regulatory bodies.
Ray brings well-rounded experience to each of his roles, having worked in Family Law, Property and Wills & Estates divisions, in addition to specialising in Personal Injury, in particular, Workers Compensation and Superannuation Insurance disputes. He has also conducted many personal injury and superannuation seminars. Ray is distinguished by his professionalism, genuine empathy and excellent communication skills.
Ray provides expert legal advice to a broad range of individuals, corporations and small business in the following areas:
Workers Compensation
Claims assessments
Insurance matters
Party responsibilities and liabilities
Negligence and misconduct claims
Involvement in alternative dispute resolution and mediation
Professional negligence
Motor vehicle accidents including car, bus, truck, bike, pedestrian, ferry and train accidents
Superannuation Law (TPD and Income Protection Claims)
"Our goal is to provide high-quality legal services at affordable prices in all our areas of legal practice. To operate transparently and communicate effectively with our clients to achieve the most favourable outcome for their legal problems."
Success Stories
Articles