Our client was a Police Officer with a young family.  One morning whilst heading to work, he was stationary at a set of traffic lights when he was rear ended.  He was in immediate pain and suffered injuries to his neck and back.  He was in shock.  His car needed to be towed away from the scene of the accident.  It was later written off.
The accident was reported formally to the Police and the appropriate claim forms were completed and sent to the greenslip insurer of the vehicle at fault.  Initially following the accident, our client thought that a few days rest would see him recover.  Unfortunately this was not to be.  The pain in his neck and back did not go away.  He attended his doctors on several occasions and was sent for scanning of both his neck and back.  He learned to manage his pain.  Concerned about the long term effects this accident would have on his Police career, he decided not to proceed with his motor accident claim (although he had complied with all requirements of the Motor Accident Act), and relied on his workers compensation rights for payment of his medical expenses and when he needed time off because of his pain.   For several years, he soldiered on.  He would have severe bouts of pain which would require him to attend doctors for active treatment.  Sometimes he just needed pain relief, medications and rest.  He loved being a Police Officer and learned to put up with his disabilities.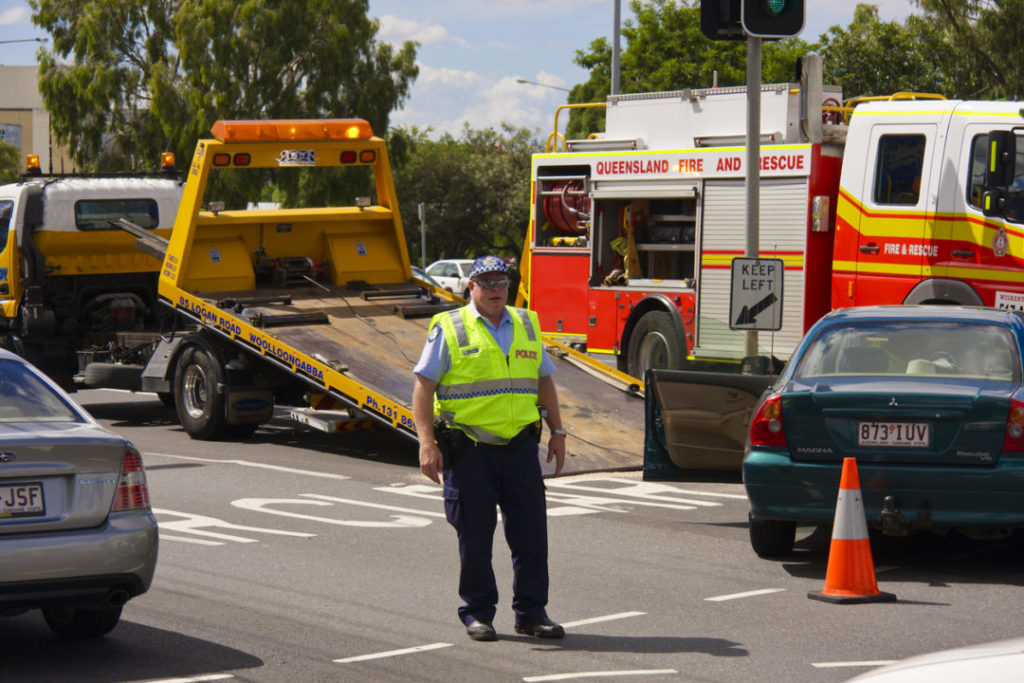 Several years after the accident, his pain was really bad.  Following doctor's advice, he underwent MRI scanning which revealed disc protrusions in his back.  He was sent to a Professor who performed nerve block injections to try and alleviate the pain.  These injections provided temporary relief but he was never free of pain.  He continued to undergo physiotherapy, massage and acupuncture all of which helped him manage the pain.
For the next few years he continued to experience exacerbations of his neck and back pain but he kept working.  At one point he was experiencing severe pain down into his leg.  He was referred to another back specialist who suggested that he continue with conservative treatment.  He kept working putting up with his pain.  On occasions he felt depressed because of the pain but kept on going as he loved being a Police Officer.
Today, he continues to be in a lot of pain.  He can't sit for long periods.  Driving long distances causes severe pain.  He has difficulty helping around the house.  The home maintenance he loved doing he can no longer do.  He has to pay others to maintain the family home.  He was an active sportsman prior to the accident enjoying tennis, jogging and going to the gym.  All of these activities are now beyond him.
It having been several years since his accident and being concerned about his future, he eventually came to the experts in motor accident claims here at Taylor & Scott seeking advice.  Simon Meigan, Partner and Accredited Specialist in Personal Injury, met with his client and carried out a full review of the claim.  Eventually it was decided that the best way forward was to contact the Motor Accident greenslip insurer and re-activate the motor accident claim.  As all paperwork had been completed in accordance with the Motor Accident Act at the time of the accident, the greenslip insurer agreed to re-activate the claim.  Simon and his team went about gathering all of his client's medical reports and arranging examinations with experts to look at the medical future that his client faced.  As well, Simon gathered expert evidence in relation to the effect of the injuries on his client's promotional prospects.  All of this information was served on the motor accident insurer.  
Eventually Simon was in a position to arrange a settlement conference with the greenslip insurer.  A very substantial settlement was achieved by Simon which has secured his client's financial future.
Taylor & Scott's Offer to You
If you are injured in a motor vehicle accident in which you suffer injury, it is imperative that you report the accident to Police and complete the appropriate motor accident claim forms.  Our team of expert lawyers in motor accident claims are here ready, willing and able to assist you.  If we decide to act for you it will be on a no-win/no-pay basis meaning that you don't pay any costs to Taylor & Scott whatsoever unless and until you win your case.  Even if it takes several years.  Our team of expert motor accident lawyers will do everything they can to ensure that you receive maximum compensation for the injuries that you have suffered.  Ring us on 1800 600 664 or email us at info@tayscott.com.au.
At Taylor and Scott "We Care For You".