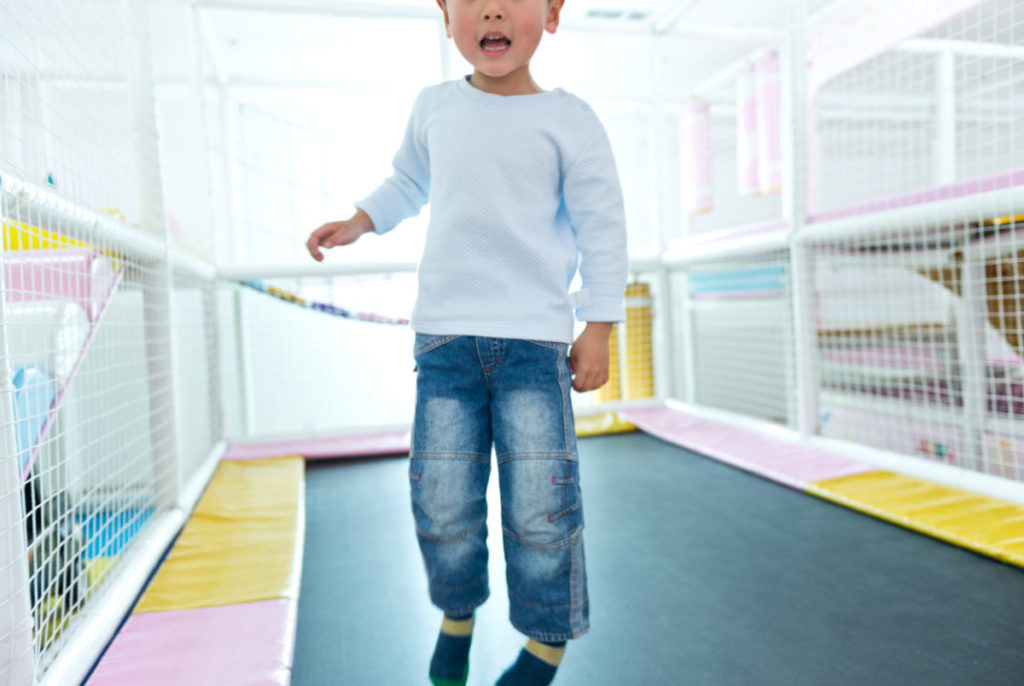 Indoor trampoline parks are a fun recreational activity for all ages and fast becoming a popular choice for kids' birthday parties, school excursions and weekend activities. These parks are usually made up of a series of interconnected trampolines that are built into the ground, with added foam and padded areas to land on. That means you can't fall off the trampoline, unlike backyard trampolines. That makes them safe, right?
Parents may have a false sense of security – thinking that supervision by park employees will keep the kids safe. The fact is, each year thousands of kids get injured in trampoline parks. While most injuries are minor twists and sprains from landing awkwardly, there is an increase in the number of serious injuries requiring emergency medical intervention.
Waivers
Some trampoline parks may get you to sign a waiver before you can start jumping. While at other parks, purchasing an entry pass is an integral part of your acceptance of their terms and conditions. These terms and conditions appear on the operator's website with comprehensive rules that must be followed to minimise cases of injury. But that's provided you have had the chance to read these terms and conditions in advance.
What does this mean for people going to trampoline parks?
The onus is placed entirely on the participants to look after themselves. By purchasing an entry pass for yourself or your kids, you agree to be bound by the terms and conditions, which can include:
You knowingly accept that the trampoline activities are dangerous, where serious personal injury and death can occur.
The trampoline park operator and its employees won't be liable for personal injury or death suffered because the activities were not supplied with due care and
skill or were not reasonably fit for their purpose.
Does that mean you don't have a claim if you or your child gets injured?
Trampoline park operators have a reasonable duty of care to their patrons; including providing adequate staff supervision, managing the number of people allowed to jump and ensuring the trampolines are securely fastened with no tears or loose pads.
If you or your child gets injured, read over the waiver/terms and conditions again to see what the terms actually cover, and consult with an experienced personal injury attorney to see if you have a negligence claim. There must be proof, evidence, and/or testimony to show that the business operator had a duty of reasonable care that was breached and this, in turn, caused the personal injuries.
Was the operator's negligence the actual cause of your injury?
Or, did you cause your own injury by climbing to the very top of the wall and jumping down, despite repeated instructions from attendants not to do so, and fracturing your arm in the process. If your injuries were caused by your own actions, then the trampoline park would most likely not be liable.
As another example: an 8-year-old is jumping on his own in one area, without incident. Then a couple of teenagers suddenly jump in and start doing high jumps next to the child, and one of them falls on the child fracturing his leg. There were no supervising attendants around and nothing to prevent or stop the older boys from jumping in the area or from jumping so high. Based on the above facts, there could be a claim against the trampoline park since the lack of supervision could likely be established as an act of negligence. Of course, each trampoline personal injury case must be evaluated based on its own facts and merits.
What to do if you think that you may have a negligence claim?
If you or your child have been injured at a trampoline park where you feel that someone else could have prevented that accident or should have done something to prevent the accident, then there may be a case of negligence and Taylor & Scott will be able to advise you of your rights in these circumstances.
It is important to seek legal advice from experts in negligence claims. We offer a free Case Assessment in all negligence claims. Our expert negligence lawyers will sit with you, assess your case, explain the law and advise you on whether they believe you will be successful in bringing a claim.
If we act for you, it will be on a no-win/no-pay basis, meaning if you don't win, Taylor & Scott Lawyers will not be paid any costs. If you or someone you know needs expert advice from our specialist team of lawyers, phone us on 1800 600 664 or complete the contact form on this page.
At Taylor And Scott "We Care For You".