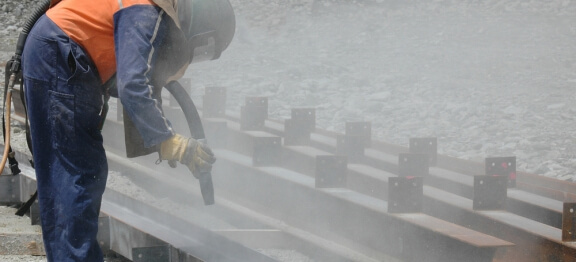 Mr L was a 57 year old sandblaster who had been with his employer for about seven years. He had always worked doing heavy physical jobs and had worked as a sandblaster for the majority of his working life.
The sand blasting work was hot, dirty and very heavy physical work. Mr L would on a daily basis have to repetitively walk up and down scaffolds, ladders and stairs, lifting heavy buckets of sand, concrete, hoses and constantly bend as part of his work.
After Mr L's first accident at work he noticed he was having a lot of difficulty with his hips. Mr L had two further work accidents. When Mr L had x-rays taken of his hips in March 2005 he was told he had an almost complete loss of joint space of both hips. At 50 years of age, Mr L was found to have significant osteoarthritis in both hips of such a severe degree over and above what a doctor would otherwise expect to see in a 50 year old.
The insurance company's response to Mr L when he made a claim for workers compensation was to decline liability on the basis Mr L's osteoarthritis had no connection to his work as a sandblaster. Mr L came to see Taylor & Scott because he could not return to work and had no income as the insurer would not pay him weekly compensation.
Taylor & Scott Lawyers investigated the claim, sought expert medical support and brought a claim on behalf of Mr L in the Workers Compensation Commission which decided that Mr L was entitled to weekly compensation. The insurance company was ordered to pay Mr L weekly compensation from the first time he went off work.
But that was not the end of Mr L's entitlements. Because of the severity of Mr L's hip impairment, Mr L was assessed at more than 15% whole person impairment. Taylor & Scott Lawyers then went on to investigate the system of work that the employer adopted. We obtained expert evidence to prove that the employer's system paid little or no regard to the damage they were causing Mr L. The employer had simply worn Mr L out.
Taylor & Scott Lawyers then brought a work injury damages claim seeking for Mr L past and future loss of wages and past and future lost superannuation. This was important for Mr L because, as a sandblaster, Mr L was earning substantial weekly wages. The statutory rate of compensation he was receiving from the workers compensation insurer was not even half of his normal weekly wage. With a work injury damages claim, Mr L was able to successfully claim the whole of his wage loss past and up to retirement at 65.
"Mr L's case is an example of not accepting the decision of the insurance company as a final decision in the matter. It is often believed that an injured worker has no power to contest the insurer's decision. However, the insurer's decision to decline liability is something that can be challenged in some circumstances. It is important to understand that the insurance company is a business and often a denial of liability is made as a way of reducing their costs. A careful review of all the facts supported by expert evidence allowed us to financially secure Mr L's future."
If you feel that the insurer has unreasonably denied liability in your case, please contact us for a free consultation.
At Taylor & Scott, We Care For You.