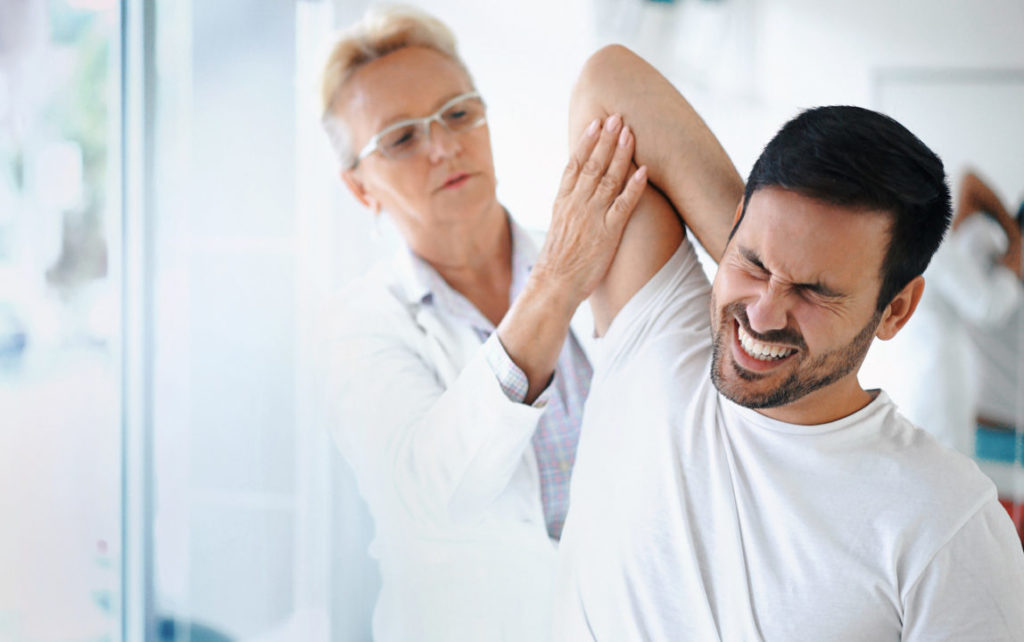 Our client was a bricklayer who had spent a lifetime laying bricks and blocks. On this particular day, he was assisting his boss in the dismantling of a scaffold that the bricklaying team had been working on. The boss was higher up on the scaffold and he was required to pass down to our client pieces of the scaffold as they were dismantled. The boss was in a hurry. Our client repeatedly called out to him to "slow down" as each item needed to be manhandled down the scaffold in a safe manner. Unfortunately, the boss didn't listen. Despite repeated calls to slow down, the boss dropped a steel beam which struck our client on the shoulder and neck.
Dazed, in shock and in extreme pain, our client rested at the worksite. Eventually, he managed to get himself home. Although in extreme pain, he drove to his local GP seeking medical treatment. Scans followed which revealed a fractured right clavicle, rotator cuff tear, torn tendons and a fractured collarbone. He was then referred to a specialist for surgical repair.
Following surgery, our client underwent a long period of rehabilitation which included physiotherapy, massage and exercise programmes. Eventually, our client was given a certificate to try very light duties. Having reported to work, the boss gave him various jobs which included cleaning bricks, shovelling and emptying buckets of building material. Needless to say, our client found it almost impossible to do these duties as he had to favour his injured arm and shoulder. In favouring his injured arm and shoulder, our client started to develop symptoms in his good arm and shoulder. Our client had to stop work, having developed a serious rotator cuff injury in his good shoulder. He had to go under the surgeon's knife a second time and a further long period of rehabilitation followed. Our client didn't give up. He eventually went back and tried light duties again, but once again his boss gave him jobs which aggravated both shoulders. Finally, he was told that there were no further light duties available to him.
As a result of these injuries, his ongoing pain and the treatment delved out to him by his employer, he developed serious depression. He was still in a lot of pain and found that any prospect of returning to the construction industry was dashed when he was told he may need to undergo further surgery. He has put off further surgery for as long as he can, worried that if it was not successful, he would have totally useless arms and shoulders.
Our client is now incapable of performing any of the physical duties he did prior to his accident. His social and domestic life is also in ruins. He enjoyed playing tennis and golf and playing with his grandchildren. Needless to say, all of these activities have been severely curtailed.
HOW TAYLOR & SCOTT ASSISTED OUR CLIENT
Having spoken with his Union, he was directed to the specialists in workers compensation and work injury damages claims here at Taylor & Scott. Michelle Meigan, who is a senior associate and expert in workers compensation and negligence claims, assisted her client. Michelle investigated the accident and gathered detailed evidence on her client's medical condition. Having obtained evidence that her client had a whole person impairment of greater than 15%, she launched a work injury damages claim on his behalf.
We are pleased to report that Michelle has been able to negotiate a substantial settlement of her client's work injury damages claim, resulting in her client receiving maximum lump sum compensation for his injuries and compensating him for his financial losses right up to retirement age.
TAYLOR & SCOTT'S OFFER TO YOU
If you or someone you know suffers a work injury which results in permanent damage, you may be able to sue for work injury damages. Our team of expert lawyers in workers compensation and work injury damages claims, offer you a free case assessment. If we act for you it will be on a no-win/no-pay basis, meaning you do not pay Taylor & Scott any costs whatsoever unless and until you win your case.
Please ring our team on 1800 600 664 or email us at info@tayscott.com.au. We will provide you with expert advice and do everything we can to ensure that you receive maximum compensation for your injuries.
At Taylor & Scott, We Care For You.