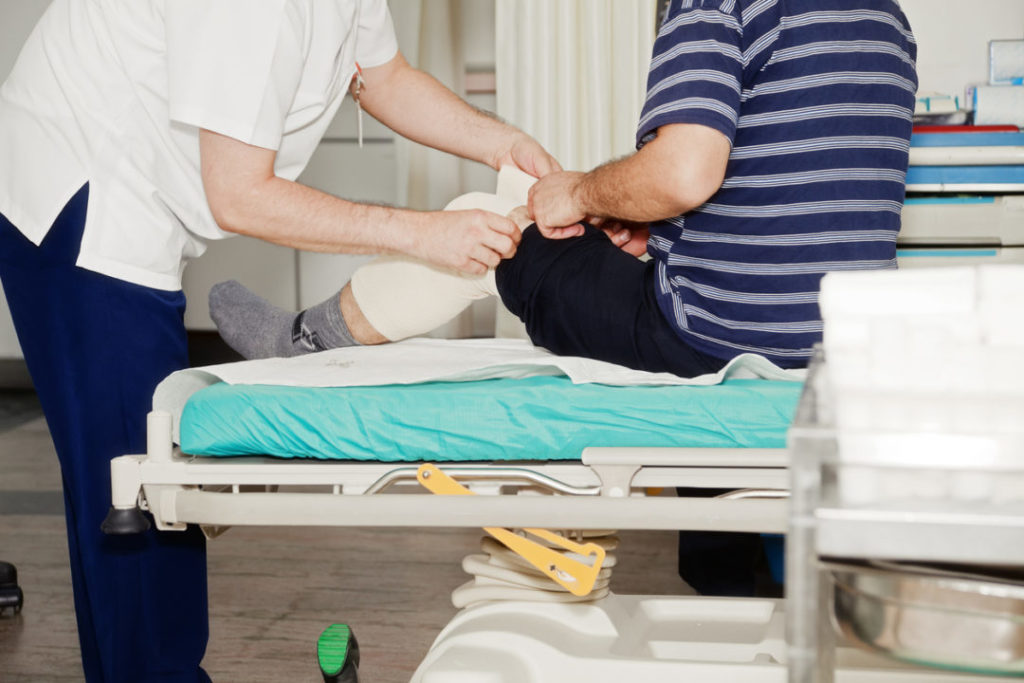 Our client left school at age 14 with very little education. A lifetime of operating heavy machinery such as dozers and scrappers followed.
Having secured work with a large civil contractor, he was sent to a coal mine to assist in the opening up of a new mine in country New South Wales. The work involved long days, up to 12 hours per day, 14 days straight and then 7 days off work. Our client lived in a mining camp whilst at work.
On this particular occasion, he had finished a long shift. He had gone back to his cabin to shower and then headed off for dinner at the camp mess with other workers. As he walked along, his feet shot out from under him and he fell heavily to the ground. What he hadn't realised was that the well-trodden grassy path that he and other workers used, had been recently watered making it extremely slippery and dangerous. Unfortunately, no warning signs had been put out by the camp operators.
In the fall, our client suffered a very severe injury to his knee. Many years before, he had injured his knee. He had had surgery to repair the knee and had continued working for more than 20 years without difficulty. Following this fall, he was taken to the hospital and consulted a specialist but for reasons best known to his employer's workers compensation insurer, his application for workers compensation was denied. Faced with the prospect of possibly losing his home if he had no income, he tried to continue working. He worked in extreme pain and was forced to take serious painkillers in order to keep going at work. Eventually, it all became too much and so he left work and sought the advice of the experts in workers compensation here at Taylor & Scott.
HOW TAYLOR & SCOTT COMPENSATION LAWYERS HELPED
Ray McClenahan, Partner and Accredited Specialist in workers compensation, advised his client. He took immediate action to bring a workers compensation claim seeking weekly payments of compensation and the payment of urgently needed medical treatment. Ray was successful in the compensation claim and his client was able to secure proper treatment for his injuries. Unfortunately, our client needed a total knee replacement with months of intensive medical treatment to follow. It was a long and painful process. Bouts of depression followed but we are pleased to report that eventually, a limited recovery was achieved and Ray's client who had been sacked by his employer, was able to secure some light work with another company but at a much lower rate of pay.
Ray had a section 66 assessment carried out which resulted in a whole person impairment greater than 15%. Ray then asked his Partner, Simon Meigan, who is also an Accredited Specialist in personal injury, to investigate a work injury damages claim against the employer and a negligence claim against the camp operator. We are pleased to report that Simon was able to negotiate a very substantial sum settling his client's claim, compensating him for his financial losses right up to retirement. He was also able to negotiate a greatly reduced payback to the workers compensation insurer. Needless to say, our client was greatly relieved in the knowledge that his financial situation was now secure.
TAYLOR & SCOTT'S OFFER TO YOU
If you are injured at work, it is imperative that you receive legal advice that you can trust. If you are not able to travel to one of our offices, our team of expert compensation lawyers will make arrangements to visit you at home or in hospital. Launching a negligence claim is complex. All work injury damages claims and negligence claims are conducted by Taylor & Scott on a no win/no pay basis meaning you don't pay Taylor & Scott any costs whatsoever unless and until you win your claim.
Please ring Taylor & Scott Compensation Lawyers on 1800 600 664 or email us at info@tayscott.com.au. We will do everything we can to ensure that you receive maximum compensation for your injuries.
At Taylor & Scott, We Care For You.