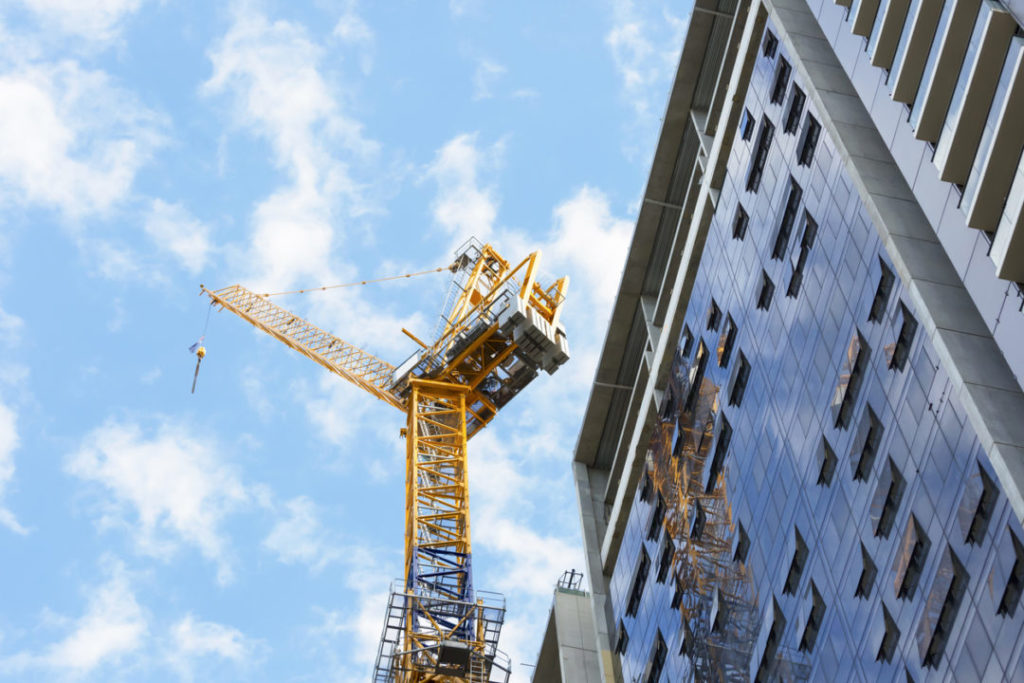 Our client was a young, physically fit dogman who loved working on building sites in and around cranes. He had successfully obtained a number of tickets which allowed him to work on mobile cranes and in a rigging crew which involved him in the erection and dismantling of tower cranes on building sites.
On this particular occasion, he was working as a dogman on a construction site where apartments and shops were being constructed. A concrete slab had been poured and our client was involved in dogging various loads using a tower crane from ground level up to where he was working on the slab.
At one point, he was walking across the deck when he suddenly fell through a panel which had not been properly secured. He fell about 5 metres onto concrete. Hitting the concrete, he was in severe pain. He had suffered an injury to his back and his arm. Fellow workmates came to his assistance and eventually he was taken by ambulance to the hospital where he remained for several days. Fortunately, the fractures to his back and arm did not result in paraplegia. He was in extreme pain but eventually, he was released from the hospital to rest and recuperate at home. There followed several months of active rehabilitation including physiotherapy, hydrotherapy and exercise programmes, combined with very strong pain killing medication.
At one stage our client experienced a seizure which led to his driver's licence and working with machines and at heights being banned. Being young and with a young family to support, he was determined to try and get back to work. After several months he was allowed to return to his employer's office to "shuffle papers" and eventually he was allowed to return to a building site but was given little to do because of his ongoing pain and restrictions.  Unfortunately, as time went on, he realised that he wasn't getting any better. He was still in extreme pain. He was very restricted with lifting and carrying; in fact even trying to play with his young child caused an increase in pain. Needless to say, he became quite depressed and despondent realising that his days of working in the construction industry in and around cranes had come to an end.
Determined to rehabilitate himself, he undertook several courses in an effort to get back into the workforce. Unfortunately, to this day he remains in a lot of pain and has on numerous occasions sought advice from his medical specialists to see if surgery could relieve him of his painful symptoms. His medical advisers have all opined that surgery could not guarantee a pain-free outcome and he has just had to learn to put up with his pain.
On the advice of his Union (CFMEU Construction Division), he contacted Simon Meigan, Partner and Accredited Specialist in Personal Injury, here at Taylor & Scott. Initially, Simon made arrangements to meet with his client at home as travelling any distance caused a serious increase in his pain. Simon met with his client and provided advice on both his workers compensation rights and outlined the prospects of a negligence claim that Simon recommended both against his employer and against various other parties who had all in some way contributed to his accident. Ultimately Simon launched a work injury damages claim against the employer and negligence claims against the builder and another contractor.
Then followed a very lengthy process of gathering evidence against the defendants from experts in the construction industry and gathering evidence on the injuries suffered and the impact of those injuries on the employability of Simon's client. As a result of the injuries, our client's ability to earn the big money available to workers in the construction industry had been destroyed. Simon's client was left with only being able to do very light sedentary work as his constant severe pain and physical restrictions greatly impacted on his capacity to stand, lift and carry.
Recently, Simon has successfully concluded his client's negligence claim. A very substantial sum has been achieved by way of a settlement securing Simon's client's financial future right up to retirement age.
TAYLOR & SCOTT'S OFFER TO YOU
If you or someone you know suffers an injury at work which impacts on your ability to work and earn a living, you are most welcome to contact the experts in workers compensation, work injury damages claims and negligence claims here at Taylor & Scott. We offer all clients a free case assessment where we will carefully analyse your case and provide you with considered advice with respect to your rights and entitlements.
If we act for you it will be on a no-win/no-pay basis, meaning you do not pay Taylor & Scott any costs whatsoever unless and until you win your case.
Contact the experts in negligence claims by ringing 1800 600 664 or email us at info@tayscott.com.au. Our team of lawyers will do everything they can to ensure that you receive maximum compensation for your injuries. Taylor & Scott will do everything we can to secure your financial future.
At Taylor & Scott, We Care For You.