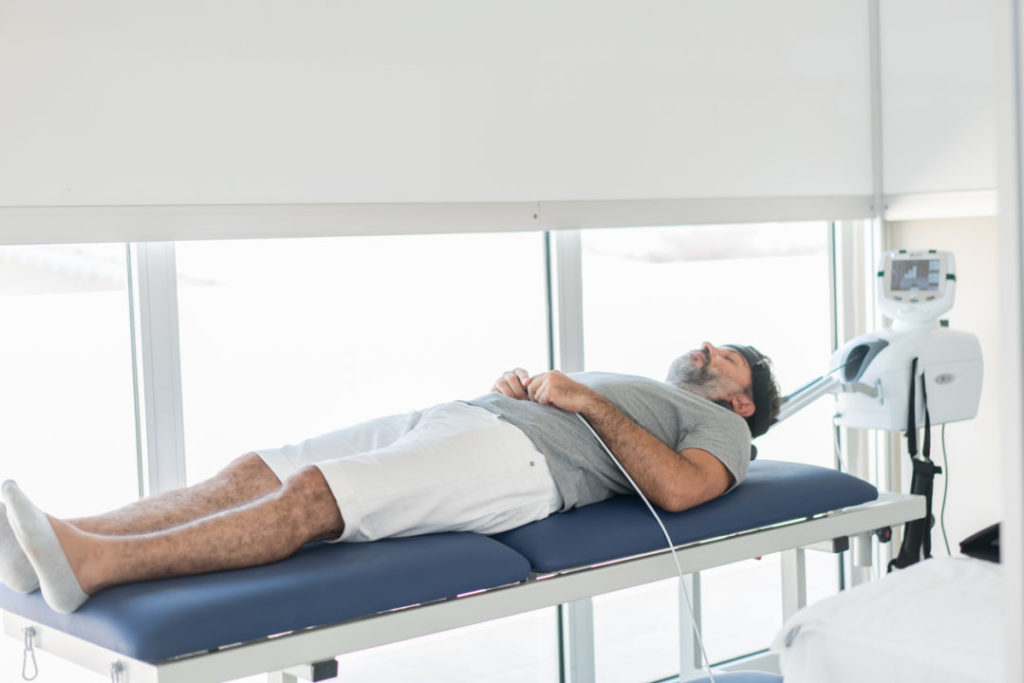 Our client is a relatively young man who works in the construction industry. He is a very hard worker used to working on fly-in/fly-out projects, sometimes up to 16 hours a day for 7-10 days at a time. Early in his career, he suffered an injury to his back. He had a few weeks off work and sought treatment. He listened to his medical advisers and made sure he kept fit performing various exercises and stretches to try and keep himself in top physical shape. Life was good.  He enjoyed the hard work which took him around Australia to various work sites. He enjoyed "the big bucks" that he was earning.
A few years ago he was on the site of a coal mine assisting in the laying of gas pipes at the mine. At one stage he was instructed to help in the moving of a compressor which was slung using chains and moved by crane. The compressor was moved to a new position and our client was then instructed to lift the chains off the hook of the crane. Unfortunately, the chains had been doubled over and, in lifting the chains which weighed well over 100kgs, our client suffered a serious injury to his back. He attempted to manage his pain and was reluctant to make a compensation claim for fear of losing his very highly paid job. But as luck would have it, his condition got worse and he was forced home to seek medical assistance. Consultations with his GP led him to be referred to a Neurosurgeon. Because of his relatively young age, the Neurosurgeon advised conservative treatment. He has undergone extensive physiotherapy and exercise programmes. He has undergone core strengthening exercises and Pilates programmes. Acupuncture has not helped. Unfortunately, the constant pain that he experiences prevents him from returning to his highly paid job. He has been totally disabled and unable to return to work for at least two years.
Eventually, a workers compensation claim was lodged and accepted by the insurance company. Concerned about his financial predicament, he consulted the experts in workers compensation claims and work injury damages claims here at Taylor & Scott. Simon Meigan, Partner and an Accredited Specialist in Personal Injury, has assisted his client. A claim for lump sum workers compensation was lodged and was successful. The medical specialists all agreed that he had a whole person impairment of greater than 15% opening the way to a work injury damages claim. Simon then set about obtaining evidence in respect to the negligence of his client's employer in requiring him to lift weights which were way too heavy. He gathered expert medical opinion and had his client assessed by an expert in work capacity. Following on from these assessments, Simon's client has had to give up any thought of ever returning to the high paying work that he was used to but fortunately has now been able to secure more manageable full time lighter employment. But the consequence of his injury is that he now only earns half what he was earning before his accident.
Having launched the negligence claim on his client's behalf, Simon then arranged for a settlement conference to take place with the employer's insurance company. We are pleased to report that Simon has recovered a very substantial lump sum settlement for his client which has effectively compensated him for his financial losses right up to retirement age. Simon has secured his client's financial future.
HOW TAYLOR & SCOTT CAN ASSIST YOU
If you are injured at work and are left with permanent problems, you may be able to bring a negligence claim. You are most welcome to meet with our experts in workers compensation, work injury damages and negligence claims here at Taylor & Scott. If we take on your claim following a free case assessment, you will not pay Taylor & Scott any costs whatsoever unless and until you win your case.  
Please phone us on 1800 600 664 or email us at info@tayscott.com.au. Rest assured we will do everything we can to ensure that you receive maximum compensation.
At Taylor & Scott, We Care For You.