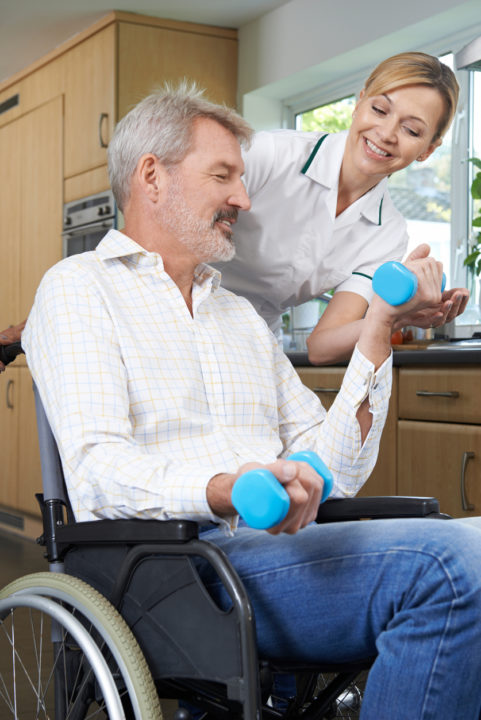 Our client spent the whole of his working life laying bricks. He loved his work. Even though he was well past retirement age, he just loved to go to work and build.  
On this particular day, he was instructed by his boss to assist a team to build a wall. It was a windy day and he was a bit apprehensive about laying bricks in windy conditions. At one point, he was bending down performing a task near the base of a new brick wall. Without warning the wall collapsed and crushed our client. In the accident, our client suffered very serious injuries. He was knocked unconscious and remained that way for a number of days.  He was rushed to hospital where he was diagnosed with fractures to his legs, a fractured pelvis, fractures to his back, a broken shoulder as well as his closed head injury.
Fortunately, the hospital team gave him the best of care and following surgery to mend his various breaks, he was released from the hospital in a wheelchair. There followed a long period of rehabilitation including physiotherapy, hydrotherapy and exercise programmes. He has been very fortunate to have the love and care of his wife and grown-up children who have all assisted with his rehabilitation. Following his initial surgery, he required further operations which we are pleased to report have been successful.
Although in his 70s, our client was determined to make the best recovery he could. He had to accept that because of the serious nature of his injuries and his ongoing disabilities, he would have to hang up his trowel and spirit rule. He concentrated on his home exercise programme, understanding that daily exercise was vital to ensure a reasonable quality of life.
As a result of his injuries, he has been left with ongoing back pain, pain in his shoulder and aching in his knee. Because of his head injury, he has poor concentration and memory loss.  He loved to read, go horse riding and fishing. Unfortunately, his days of riding and fishing are over, but he has remained positive and committed to his exercises to ensure some quality of life in his retirement.
HOW TAYLOR & SCOTT COMPENSATION LAWYERS HELPED
His Union, the CFMEU (Construction Division) referred him to Taylor & Scott Compensation Lawyers to provide advice in respect to his compensation rights. Our team of highly skilled compensation lawyers attended our client at both his hospital bedside and his home to ensure that he understood his rights and to ensure that all of his compensation entitlements were being paid.
Because of the very serious nature of his injuries, our team waited until his doctors confirmed that he had achieved maximum medical improvement. Once this was confirmed, our lawyers arranged for their client to be assessed to determine his whole person impairment by independent medical specialists. Once his "WPI" had been determined, they moved on to claim his lump sum for the permanent impairment arising from his injuries.
Simon Meigan, Partner and Accredited Specialist in Personal Injury and an expert in negligence claims, met with his client to discuss maximising his compensation entitlements.  Simon had carefully investigated the facts and circumstances of the accident and had advised his client to launch a work injury damages claim against his employer and a negligence claim against the builder who had overall responsibility for the building site.
SUCCESSFUL OUTCOME OF NEGLIGENCE CASE
We are pleased to report that Simon was able to negotiate a very substantial settlement against the defendants thereby ensuring that his client would have financial security in his retirement.
TAYLOR & SCOTT'S OFFER TO YOU
If you, a member of your family or someone you know suffers a serious injury at work, it is imperative to receive top class advice from highly experienced compensation lawyers.  Here at Taylor & Scott Compensation Lawyers, we have been assisting injured workers in NSW for over 100 years. We offer a free case assessment in every accident claim. If we believe you have a case, we act for you on a no-win/no-pay basis meaning that all costs incurred by Taylor & Scott are met by them. You do not pay any costs unless and until you win your case.  
Our team of highly skilled compensation lawyers will do everything they can to ensure that you receive maximum compensation for your injuries.  
Please call us on 1800 600 664 or email us at info@tayscott.com.au. It does not matter where you live in NSW, we will do everything we can to ensure that you receive maximum compensation.
At Taylor & Scott, We Care For You.