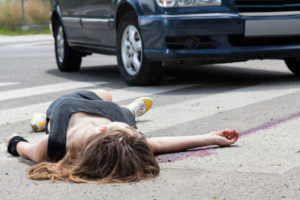 Our client worked at a hospital and was planning to retire. As luck would have it, she had just finished dinner at a local restaurant early one evening and was heading home. She reached the intersection and waited for the green pedestrian walk sign. The pedestrian light turned in her favour and she commenced to cross the road. Without warning, a 4-wheel drive turned the corner and knocked our client over. The vehicle then took off. Luckily there were a number of pedestrians nearby who came to our client's aid as well as taking the registered number of the vehicle that struck our client.
Ambulance and Police were called. She was taken to Accident and Emergency, admitted and then underwent surgery for a number of fractures to her ankle and to her knee and elbow. After approximately three weeks in the hospital, she was transferred to a rehabilitation hospital where she underwent intensive therapy for a further two weeks. Because she was a single person living alone, it was decided to give her very intensive therapy before allowing her home in a moon boot and on crutches.
Following her release from the rehabilitation hospital, she was followed up with further physiotherapy for several months until eventually, she was able to return to her work on a part-time restricted basis. Several months later she was able to resume full-time employment.
She has been left with ongoing problems including a knee which gives way without any warning, inability to walk long distances and a loss of balance and stamina. She also suffers from a burning sensation in her ankle if she walks too far.
Being fiercely independent, she no longer feels confident about standing on a ladder or stool. She enjoyed bike riding but is fearful of falling from her bike and doing further damage to herself.
HOW TAYLOR & SCOTT MOTOR ACCIDENT LAWYERS HELPED
Not knowing her rights, she contacted Taylor & Scott Motor Accident Lawyers. Simon Meigan, Partner, Accredited Specialist in Personal Injury and an expert in motor accident personal injury claims, met with his client at the rehabilitation hospital where she was an inpatient. Simon was able to explain to his client her rights and was then able to outline a claim under the Motor Accident Law in which Simon would seek damages from the greenslip insurer of the motor vehicle that had caused her accident. Simon further explained that he would conduct the case on a no-win/no-pay basis meaning his client paid no costs to Taylor & Scott unless and until she won her case. Simon then set about obtaining the evidence he would need to prove her economic loss as well as obtaining medical reports from her treating doctors. Simon also qualified a very senior orthopaedic specialist to give an opinion in respect to any long term effects that his client might experience as a result of the injuries that she has suffered in this accident.
COMPENSATION AWARDED
We are very pleased to report that Simon was able to negotiate a fair lump sum payment to his client compensating her for her loss of wages and also compensating her for her pain and suffering and the possibility that she may need to undergo further treatment in the years to come if her injuries deteriorated.
TAYLOR & SCOTT MOTOR ACCIDENT LAWYERS OFFER TO YOU
If you or someone you know is injured in a motor vehicle accident, Taylor & Scott offers a free case assessment to advise you of your rights under NSW Motor Accident Law. Motor Accident Laws in NSW have recently changed and even if your car accident was your fault, you may be able to make a claim. It is imperative that claim forms are completed at an early date to ensure that you receive maximum compensation. Please contact our team of motor accident lawyers by phoning 1800 600 664 or emailing us at info@tayscott.com.au
Our team of motor vehicle experts will do everything they can to ensure that you receive maximum compensation for the injuries you have suffered.
At Taylor & Scott, We Care For You.