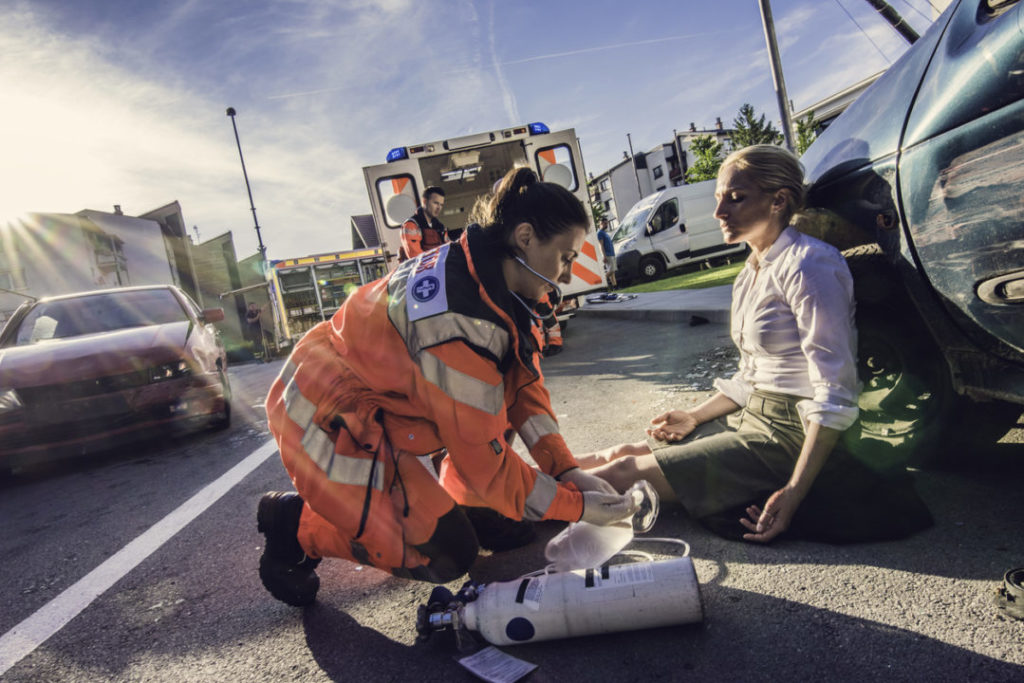 Our client was driving home from work one evening when she stopped to give way to a person on a pedestrian crossing. Unfortunately, a truck following our client failed to stop and slammed into the back of our client. Shocked and in serious pain, our client pulled over to the side of the road. Instead of apologising and offering assistance, the driver of the truck verbally abused our client, refused to help or give his particulars and then "took off". Fortunately, our client had the presence of mind to remember the registered number of his vehicle. She called the Police and Ambulance. A few hours later, the truck driver turned himself into the Police.
Our client was taken by Ambulance to Accident and Emergency at the local hospital. She was in severe pain, particularly in her neck, back, arms and legs. Following a period in hospital, she was allowed home. Unfortunately, her physical injuries and psychological injuries caused by the abusive driver have had a devastating effect on our client. She continues to suffer from pain in her neck, shoulders, back, arm and leg. She also suffers from insomnia, nightmares, a lack of appetite and dizziness.
Her local GP referred her to several specialists for treatment of her painful symptoms. She also has undergone active treatment for her psychological injuries including counselling from psychologists and psychiatrists and a pain management program at a major hospital. Prior to her accident, our client was in full-time employment and enjoyed a very active life. She was very proud of her home and enjoyed tending her vegetable garden. The accident has had a devastating effect on her. She has been unable to return to her work and suffers from unremitting anxiety and depression.
HOW TAYLOR & SCOTT MOTOR ACCIDENT LAWYERS ASSISTED
At the suggestion of her Union, she made an appointment to consult with Simon Meigan, Partner, Accredited Specialist in Personal Injury and an expert in motor accident negligence claims. Simon took very detailed instructions with respect to his client's claim. He carefully explained her rights to seek motor accident compensation. He also explained that she was not entitled to workers compensation payments as she was on a journey home from work and injuries arising from "journey claims" are now no longer compensable under NSW workers compensation laws.
Simon offered to launch a motor accident negligence claim against the driver at fault and their greenslip insurer. He set about obtaining all relevant medical information from her treating specialists. Having received the medical information, he then qualified various experts to provide opinions with respect to his client's current and future medical needs.
Simon conducted the case on a no-win/no-pay basis, meaning that his client would not pay any legal costs to Taylor & Scott, unless and until she was successful with her case.
SUCCESSFUL OUTCOME OF MOTOR ACCIDENT NEGLIGENCE CLAIM
We are very pleased to report that Simon was able to negotiate a substantial settlement of his client's motor accident claim, thereby giving her financial security and compensating her for her injuries and ongoing disabilities.
TAYLOR & SCOTT MOTOR ACCIDENT NEGLIGENCE LAWYERS OFFER TO YOU
Motor accident laws in NSW have been drastically changed in recent times. It is vital to receive sound advice from experts in motor accident law. If you are seriously injured in a motor vehicle accident anywhere in NSW, Taylor & Scott will provide you with a Free Case Assessment. If we act for you, we will do so on a no-win/no-pay basis meaning that you will not pay Taylor & Scott any costs unless and until you win your case. There are time limits that apply in motor accident claims. Please contact our team by phoning 1800 600 664 or email us at info@tayscott.com.au
Our team of experts in motor accident negligence claims will do everything they can to ensure that you receive maximum compensation for your injuries and losses.
At Taylor & Scott, We Care For You.