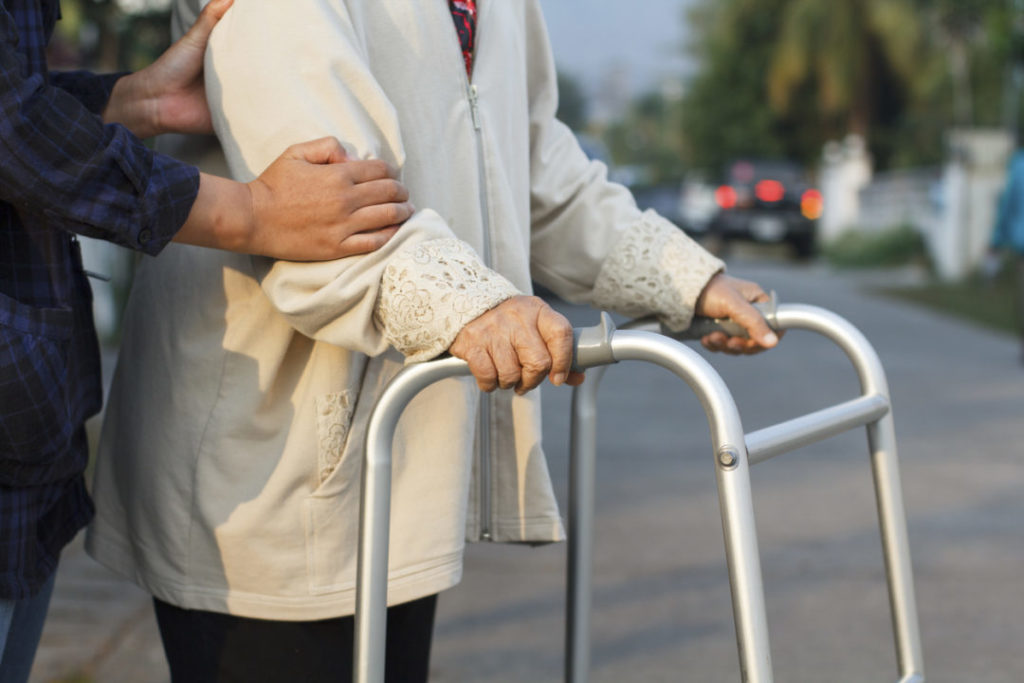 Our client lived in country NSW. Being in her early 80s, she was fiercely independent. She lived alone, enjoyed her garden, meeting friends and walking everywhere. She enjoyed visiting her local club to catch up with her friends. On this particular occasion, she was being driven home with others in the club's courtesy bus. With her seatbelt properly fastened, she had enjoyed her evening. Without warning, as the bus proceeded through an intersection, a vehicle failed to stop at a Give Way sign and collided with the bus. As luck would have it, the vehicle struck the bus where our client was seated. Our client took the full impact of the crash. She suffered serious injuries to her neck, shoulder, arm, hip, pelvis and leg. Emergency Services were called and eventually, our client was rushed to Accident & Emergency at the local hospital. She was x-rayed and diagnosed with several fractures as well as very severe bruising to various parts of her body.
Because of her age and the severity of her fractures, she remained in the hospital for several weeks. Eventually, she was able to start walking with the use of a walking frame. Because she lived alone and now couldn't care for herself, a long period of rehabilitation and care has been needed.
Fortunately, she has a loving, caring family who have rallied around and now care for her on a daily basis. She continues to suffer nightmares and flashbacks re-living the accident. She suffers from pain and restriction of movement in her neck and shoulder. She cannot use her arm above her head. She constantly wakes up during the night if she attempts to roll over. Walking causes pain; she cannot lift or carry. Unfortunately, she now needs care on a daily basis. Her love of tending to her garden is now well beyond her.
HOW TAYLOR & SCOTT MOTOR ACCIDENT COMPENSATION LAWYERS HELPED
Not knowing where to turn, her family made contact with Taylor & Scott Motor Accident Lawyers. One of our senior lawyers travelled to her town to meet with the family and provide legal advice and guidance. Taylor & Scott offered to act in a motor accident claim on a no-win/no-pay basis meaning that all costs involved in mounting the motor accident negligence claim were covered by Taylor & Scott and no costs became payable unless and until our client was successful with her claim.
Simon Meigan, Partner and expert in motor accident personal injury claims acted. He gathered together evidence concerning the facts and circumstances surrounding the accident. He secured an admission of liability from the greenslip insurer of the vehicle at fault. Simon arranged independent examinations with a very senior orthopaedic specialist and with an expert in occupational therapy in order to assess the domestic assistance that our client would need on an ongoing basis.
SUCCESSFUL OUTCOME OF MOTOR ACCIDENT CLAIM
We are very pleased to report that Simon was able to arrange a settlement conference with the insurer and has successfully negotiated a substantial lump sum settlement for his client. This lump sum compensation settlement has compensated his client for her pain and suffering and ensured that there was money available to provide the domestic care and assistance that she would continue to need.
TAYLOR & SCOTT MOTOR ACCIDENT LAWYERS OFFER TO YOU
Taylor & Scott Motor Accident Lawyers have been assisting injured people here in NSW for more than 100 years. No matter where you live in NSW, if you are injured we offer a Free Case Assessment. If we take your case, we will act for you on a no-win/no-pay basis meaning that all costs associated with bringing your claim are guaranteed by Taylor & Scott and you pay no costs to Taylor & Scott unless and until you win your case. No matter where you live in NSW, you are welcome to contact our experts in negligence claims on 1800 600 664 or email us at info@tayscott.com.au
Our team of expert motor accident negligence lawyers will do everything they can to ensure that you receive maximum compensation for your injuries.
At Taylor & Scott, We Care For You.