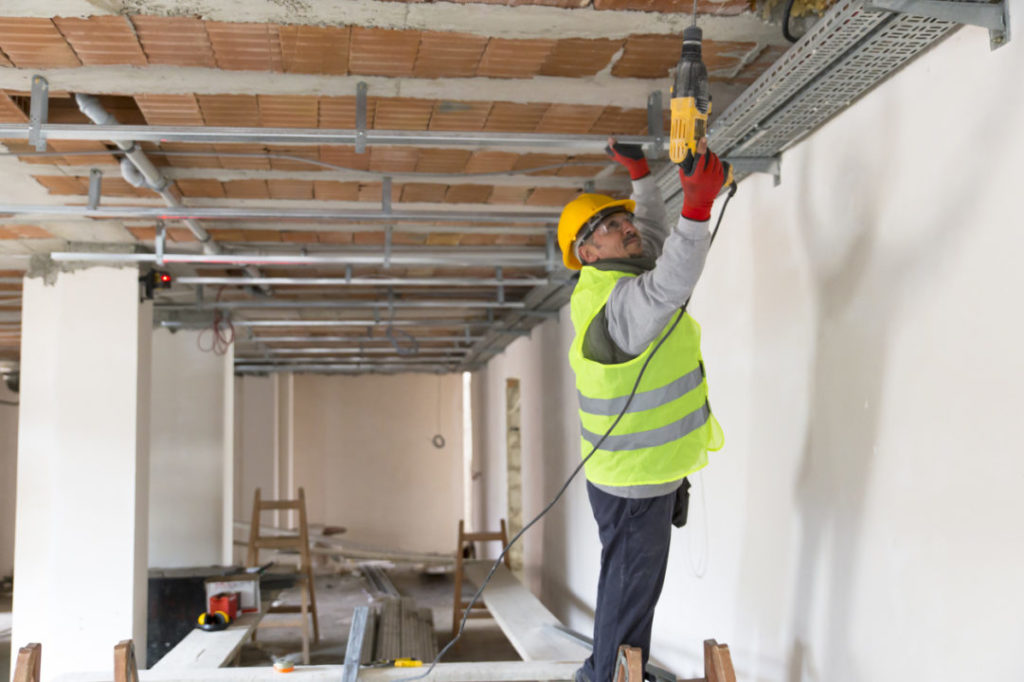 Our client worked as a sprinkler fitter. This work was very demanding. Most days involved a lot of carrying and lifting. Because fire sprinkler systems are fitted to ceilings, every day usually involved working with arms extended over his head. In order to support the metal piping, ceiling supports needed to be drilled into the concrete ceilings. This involved holding a heavy concrete drill and applying pressure for hours at a time. Our client estimated that more than 4 hours every day was spent with his arms reaching up working overhead.
Over the years, our client progressed with his company. He was given more responsibility but the duties remained the same. By the end of the day, his arms and shoulders would be aching. As the years went on, the pain got worse. Requests to be given alternative duties were met with "You are a sprinkler fitter. There are no alternative duties for you". The company had deadlines to meet. Co-workers at the company were also experiencing problems with their arms, shoulders and necks.
This should have been a "wake-up call" for the employer. It would have been quite easy for the employer to have put into place strategies that could have reduced the risks of injuries to the workers. Automated and supportive tools could have been used to reduce the load put on the shoulders and arms. Rotation of workers from working overhead to alternative duties could have been introduced. More rest breaks could have been allowed. Unfortunately, no such assistance was given to our client and eventually, he suffered serious injuries to his shoulders. Eventually, our client had to stop work. Investigations by the medical profession reported tendon tears in his shoulders. His GP sent him to a specialist shoulder surgeon. Surgery followed to repair the rotator cuffs and a long period of rest as well as physiotherapy followed.
After a number of surgeries and a year trying to rehabilitate, our client eventually tried to get back to work. Light duties of a sought were provided and our client did everything he could to rehabilitate himself. Eventually, the boss called him in and told him "You're out. There are no more light duties". Our client was devastated. He was never free of pain. He became depressed. He needed to work and looked for alternative employment. Eventually, he was able to secure a light job as a driver. There was no lifting or carrying and his arms remained below shoulder level. He managed to do his work but needless to say, his income was half what he was earning as a sprinkler fitter. Not knowing his rights, he turned to the experts in workers compensation here at Taylor & Scott Compensation Lawyers.
HOW TAYLOR & SCOTT COMPENSATION LAWYERS HELPED
An appointment was made to confer with Ray McClenahan, Partner and Accredited Specialist in personal injury. Ray carefully reviewed his client's situation. He advised him on bringing a makeup pay claim. He checked to ensure that all of his client's medical expenses were being met by the insurance company. He also discussed a total and permanent disability claim as Ray knew from experience that eventually his client's shoulder condition would probably force him into an early retirement. Ray had an assessment done of his client's whole person impairment which came back at greater than 15%. Ray then asked his Partner, Simon Meigan who is an expert in work injury damages claims, to review the case to determine if a negligence claim could be brought against the employer. Eventually, Simon launched a work injury damages claim to seek a lump sum to compensate his client for his wage loss right up to retirement. We are very pleased to report that a very substantial settlement has been achieved by Simon fully compensating his client in respect of all of his financial losses up to retirement.
TAYLOR & SCOTT'S OFFER TO YOU
Here at Taylor & Scott Compensation Lawyers, we have been assisting injured workers for more than 100 years. Our team of experts in workers compensation, total and permanent disability claims, work injury damages claims and negligence claims are leaders in these fields. All claims are conducted on a no win/no pay basis meaning you don't pay Taylor & Scott any costs whatsoever unless and until you win your claim. Everything is done to ensure that maximum compensation is achieved in every case. If you need help, you need to look no further than the experts here at Taylor & Scott Compensation Lawyers.
Please ring Taylor & Scott Compensation Lawyers on 1800 600 664 or email us at info@tayscott.com.au. We will arrange to meet with you at one of our offices here in New South Wales or your home or hospital.
Trust the experts in workers compensation, TPD and negligence claims, Taylor & Scott Compensation Lawyers.
At Taylor & Scott, We Care For You.