Dog attacks leave physical and emotional scars that can last for life. Every Australian dog owner has responsibilities, while victims of dog attacks also have rights that are enforceable. Dogs are expected to be kept under control at all times, whether on private or public property. Penalties for not using a leash, for example, range from $200 to $5000, while huge fines and imprisonment are legal avenues in severe dog attacks. Victims of dog attacks can claim compensation from those responsible for the dog, and by building a case with the assistance of Taylor & Scott Lawyers, the chance of a successful claim outcome is greatly increased.
How do victims of dog bites make a compensation claim?
Every dog attack is different, but each case should be taken seriously. A dog that attacks once is more likely to attack again, so taking legal action is the best course of action for everyone's sake. A dog bite compensation claim overseen by Taylor & Scott takes each step in the appropriate order to build a case worthy of negotiation. It's worth understanding that dog bite compensation claims are often obstructed by opposing defendants and legal teams. Your comprehensive claim procedure will take steps that include:
Initial consultation with a dedicated Taylor & Scott compensation lawyer
If a good case is possible, an agreement is signed and we get to work
Taylor & Scott no-win no-fee promise means you can take it easy
Initial documents are lodged while we build your strong case
All evidence and supporting documents are analysed
Negotiation for settlement, or alternatively, taking the matter to court
Complete settlement including fast payment processing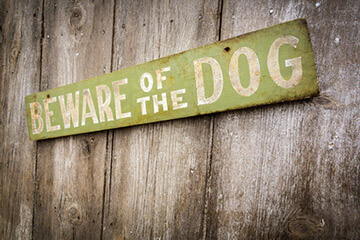 What type of dog bite injury can I claim for?
Victims are able to bring civil actions against dog owners.   Compensation can be claimed to cover losses suffered due to dog attack injuries. Dog owners can be sued in situations that include:
Encouraging the dog to attack or threaten a person or other animal
Negligence in taking steps to ensure the dog doesn't attack
Dog owners are generally held responsible for attacks, although anyone of legal age who is supervising the dog at the time of the attack can be held responsible and charged. Injuries suffered by dog attacks can be physical or psychological, and in cases where death occurs due to a dog attack, the victim's family are eligible to receive compensation. In order to proceed with a claim for compensation, evidence is required. This includes proving the dog owner breached their duty of care, resulting in injury caused by dog attack.
It seems simple in theory, but expert legal negotiating power will be required at some point for optimal claim outcomes. Only a qualified and experienced compensation lawyer such as those at Taylor & Scott can get the compensation outcomes you deserve.
What can I claim for after a dog attack injury?
Dog bite compensation claims cover all physical and psychological injuries, losses, and past and future costs. Examples of claims include:
Loss of past and future earnings
Medical and hospital expenses
Ongoing care and home services
Pain and suffering compensation
Payment to compensate for psychological damage
Compensation payment considerations include the extent of injuries or suffering, age of the victim, amount of lost wages, care needs and expenses paid out of the victim's pocket. Treating doctor's reports are vital, including those of compensation specialists, and once Taylor & Scott take your case, we are on the case and commencing proceedings immediately, with absolutely no fees required until compensation is won.
What other things will affect my dog bite compensation claim?
Generally, if injuries are verified by treating doctors and supported by other evidence, the claim has a good winning chance. The major obstacle is usually opposing legal representation from the dog owner, although there may also be other contributing factors. For example, there may have been provocation that caused the dog to attack, or an intruder got bitten after ignoring signs and entering a dog enclosure. In this situation the dog attack victim maybe partly liable, and compensation may be adjusted accordingly.
If you have been injured by a dog and you did not provoke it to attack, then you may be eligible to claim for damages, compensation, financial loss and medical expenses against the dog owner. Dog owners need to be aware that they are under strict legal obligations and will be liable if their dog attacks a person and causes injury or financial loss.
Taylor and Scott can help with all aspects of claiming compensation regarding dog attacks. For more information, contact us today to discuss your matter further.
At Taylor & Scott "We Care For You."