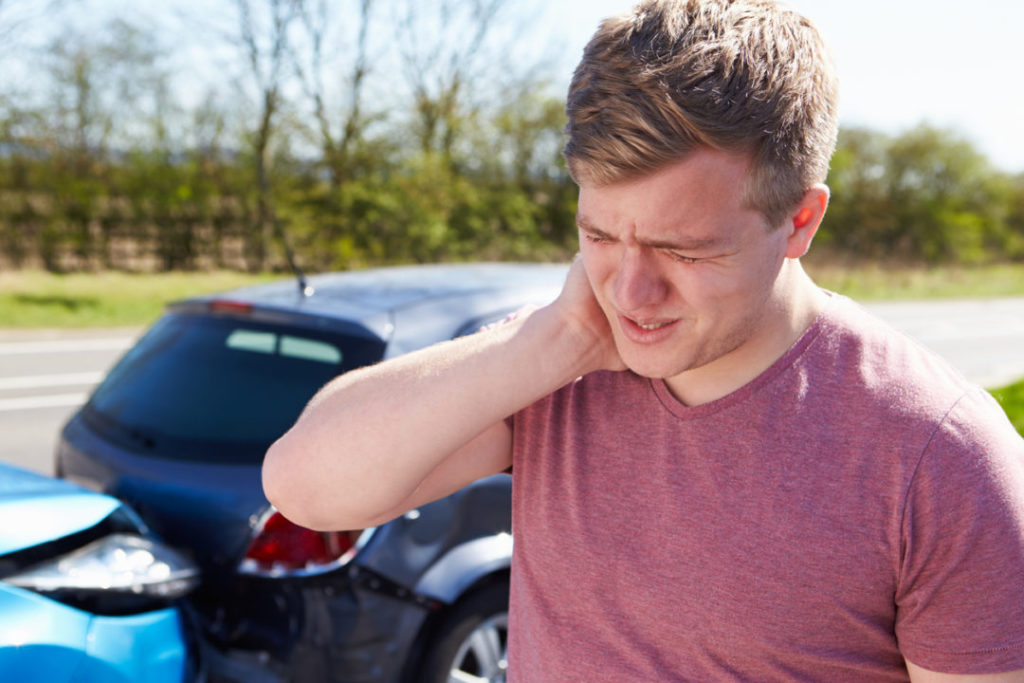 Recently, our experts in motor accident law, Simon Meigan and Michelle Meigan, assisted a client living overseas. Our client left school at an early age and had numerous jobs working as a labourer. At one point he secured work in the building industry and learnt to do the work of a rigger/dogman. He loved this work and was determined to move on and learn to operate cranes. Eventually, he moved to Australia and secured work here in NSW in the building industry. He worked for a number of crane companies as a rigger/dogman. Life was good. He had full-time employment and was earning top dollar. Unfortunately, this all came to an abrupt end when he was injured in a motor vehicle accident here in Sydney.
THE ACCIDENT AND AFTERMATH
Driving home from work one afternoon with his seatbelt properly secured, he came to a stop in a line of traffic. Suddenly without any warning, he was rear-ended. He felt a whiplash type sensation through his whole body most particularly affecting his shoulder, neck and back. Police and ambulance were called and he received treatment at the scene. Being a fairly stoic fellow, he was not keen to go with the ambulance to the hospital so a mate drove him home from the accident. He rested at home and eventually got himself back to work. He was undergoing physiotherapy for many months and taking painkillers on a daily basis to try and stay at work. Because of the pain in his arm and shoulder, he was forced to favour one arm which then caused problems with his other arm and shoulder. For over a year he struggled to keep going. After a day on the job, he was in so much pain as he drove home, he would pull over and rest before carrying on. Because of the pain, he was getting very little sleep. He also found that his ongoing pain was starting to have an effect on him emotionally.
As time went on, the arm and shoulder continued to deteriorate. He had difficulty lifting his arm to put on and pull off a t-shirt. He couldn't sleep on one side. He couldn't do his laundry. Cleaning his apartment became impossible and his depression got worse. Eventually, he had to stop work. Needless to say, he was devastated. He loved the gym, fishing, golfing, gardening and swimming, none of which he could continue to do. Having consulted with an orthopaedic specialist on a number of occasions, he was advised initially to rest and take courses of anti-inflammatories in the hope that his arm and shoulder would eventually improve. He returned home to his family overseas as he could no longer look after himself here in Sydney.
His family were very supportive, helping him every way they could. As his medical condition did not improve, he again came back to Australia and consulted his specialist. There was now no alternative; he needed to go under the knife and have a total shoulder replacement. Unfortunately, the results of the surgery haven't been as successful as hoped. Our client has been left with pain in his arms and neck. He has restricted movement. He cannot pursue his work or any of his sporting activities. He sleeps for no more than two hours a night. Needless to say, he is depressed knowing he will never be able to pursue his work and will have to live with his pain for the rest of his days.
HOW TAYLOR & SCOTT MOTOR ACCIDENT EXPERT LAWYERS HELPED
Having made contact with Taylor & Scott, Simon Meigan, Partner and Accredited Specialist in Personal Injury, and Michelle Meigan, a Senior Associate here at Taylor & Scott, assisted their client. They explained to him his rights under the motor accident laws here in NSW. Instructions were accepted by our team who explained to the client that they would do the matter on a no-win/no-pay basis and that he wouldn't need to be worried about having to find money to attend medical appointments or to pay Taylor & Scott. In fact, no costs would be paid unless and until he was successful with his claim. After initially conferring by telephone, Simon Meigan made arrangements to fly to New Zealand to meet with his client and to make sure that the client was clear and understood fully his rights and exactly what Taylor & Scott would be able to do for him. As the case proceeded, Simon and Michelle Meigan both worked diligently to ensure that all evidence needed to prove their client's losses were obtained from both here in NSW and in New Zealand.
SUCCESSFUL OUTCOME OF MOTOR ACCIDENT CLAIM
We are very pleased to report that Simon and Michelle were able to secure a very large lump sum settlement for their client which has secured his financial situation for the rest of his life. Commenting on the case, Simon said:-
"Here at Taylor & Scott, our team of litigation experts in motor accident claims and work injury claims are not deterred by the fact that a client may now be living in another country. On many occasions, we have travelled, not only throughout NSW and Australia to assist clients, but where necessary we travel overseas to ensure that our client is provided with the best possible legal service, all done on a no-win/no-pay basis".
TAYLOR & SCOTT'S OFFER TO YOU
If you are seriously injured in NSW in a motor vehicle accident or in any other type of accident, no matter where you live we will do everything we can to assist you. Our lawyers will travel to meet with you in your home or hospital, in NSW or in any other part of Australia. If you now reside in an overseas country, we will if necessary travel to meet with you and if we accept your instructions, we will proceed with your claim on a no-win/no-pay basis, meaning that you do not pay Taylor & Scott Litigation Lawyers any costs whatsoever unless and until you win your case. No matter where you live if you are injured here in NSW, Taylor & Scott Compensation Lawyers will be by your side to assist you with your claim.
Email us at info@tayscott.com.au or phone us on 1800 600 664 for advice and assistance.
At Taylor & Scott, We Care For You.