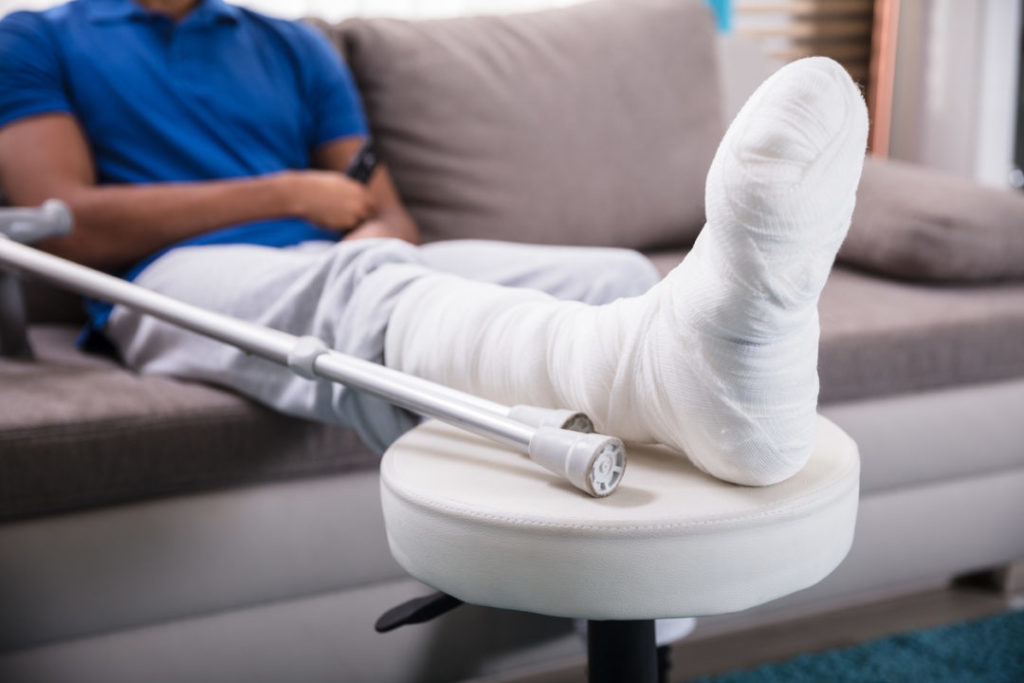 Our client was employed by a labour-hire company. He was sent out to various worksites to assist other companies. On this particular occasion, he had been sent to assist a civil contractor who had a contract to install various road drains. He was directed to assist workers install very heavy metal drain covers. To do this job, a backhoe was used to lift the drain covers. They were then manoeuvred into position and lowered into place with the use of chains. Our client was on one side of the cover and on the opposite side was a labourer from the head contractor and his fellow workmate operated the backhoe. As the cover was placed into position, our client was required to detach the chains. He stepped forward to do this and without any warning, the backhoe operator lifted the cover-up. It broke free of the chains and dropped down onto our client's foot. Our client was in extreme pain. He feared the worst. Fortunately, he was wearing heavy duty work boots with reinforced toecaps. He was rushed to the hospital for urgent treatment.
Carefully his boot was removed. Fortunately, his toes had not been severed but he had sustained several fractures of his foot. His foot was packed in ice and he rested for a number of days. Unfortunately, his pain remained and he then came to surgery with a specialist foot surgeon. Several screws were needed to repair the injuries to his foot. After a number of months, the screws were removed by the surgeon. Following several months of physiotherapy, he attempted light duties. Because of the ongoing pain in his foot, he has been forced to retrain as a hoist driver which allows him to avoid having to walk around building sites all day over rough and uneven ground.
It is now three years since his accident and he has been left with continuous ongoing pain and swelling in his foot. He has difficulty climbing and descending stairs. He has to avoid standing on his foot for long periods and he also avoids walking any long distance or over rough ground. He can't run and has to avoid heavy pushing or pulling because this requires him to brace his foot.
Concerned about his future, he turned to the experts here in workers compensation and negligence claims at Taylor & Scott. Initially Ray McClenahan, Managing Partner and Accredited Specialist in Personal Injury and an acknowledged expert in workers compensation claims, met with his client. He reviewed his case and provided advice to ensure that his client was being paid all of his workers compensation entitlements. He also advised his client that he believed he had a negligence claim against the third party non-employer for the negligence of the backhoe operator in causing his accident. Ray then referred his client to his partner, Simon Meigan, who is an expert in negligence claims, to review the case and provide advice. Simon is also an Accredited Specialist in Personal Injury and one of Sydney's leading personal injury negligence lawyers. He met with his client and provided advice. Simon launched a negligence claim against the non-employer in the District Court of NSW. Simon acted on a no-win/no-pay basis meaning our client was not required to pay any legal costs unless and until he was successful with his case.
CLIENT WINS DAMAGES CLAIM
We are pleased to report that Simon was able to achieve a substantial settlement of the negligence claim securing a lump sum payment to compensate his client for his pain and suffering, his ongoing disabilities and the effect that this accident has had on our client's earning capacity.
TAYLOR & SCOTT'S OFFER TO YOU
If you or someone you know is injured at work, it is imperative that you seek expert advice from skilled workers compensation and negligence lawyers. Our team here at Taylor & Scott Litigation Lawyers are experts in their field. Most are Accredited Specialists. All negligence claims are conducted on a no-win/no-pay basis meaning you do not pay Taylor & Scott any costs unless and until you win your case. No matter where you live in NSW, if you are injured at work, contact the experts in workers compensation and negligence claims here at Taylor & Scott. Taylor & Scott Compensation Lawyers have been acting for injured workers for more than 100 years.
Ring Taylor & Scott on 1800 600 664 or email us at info@tayscott.com.au. We will do everything we can to ensure that you receive maximum compensation for your injuries.
At Taylor & Scott, We Care For You.