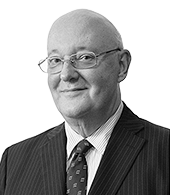 Consultant

Email: info@tayscott.com.au
Phone: (02) 9265 2500
Fax: (02) 9265 2555

Firm service areas: Employment Law & Industrial Relations, Immigration Law, Strategic Advice

Offices:

Lachlan joined Taylor & Scott in March 1995, becoming a senior associate in 1999, and a Partner of the firm in 2004. Lachlan remains a Consultant to the firm dealing with complex industrial and migration issues as well as any matters regarding strategic advise.
Lachlan was admitted as a Barrister and Solicitor of the Victorian Supreme Court in 1973. From 1974 Lachlan specialised in industrial and employment law as a Union Official with Australian Bank Employees Union (1974-1980), Australian Trade Union Training Authority (1980-1981) and Public Service Association of South Australia (1982-1986). He was Secretary and Chief Executive Officer of Austalian and State Public Service Federation 1986-1992 and member of the ACTU Executive (1990-1992).
Lachlan is also a registered Immigration Agent (Migration Lawyer and Migration Agent Registered No. 9473887). See MARA Code of Conduct.
Lachlan's vast experience extends to all areas of immigration, employment, anti-discrimination and trade union law including:
Representation of unsuccessful immigration applicants in appeals in the Migration Review Tribunal;
Representation of individuals, employees, employers and industrial organisations in employment or industrial disputes before Tribunals, Commissions and State and Federal Courts;
Advice to persons or organisations on all employment related issues;
Defamation.
Qualifications:
Bachelor of Laws
Bachelor of Economics
Master of Laws
Solicitor of the Supreme Court of New South Wales
Solicitor of the High Court of Australia
At Taylor & Scott " We Care For You."