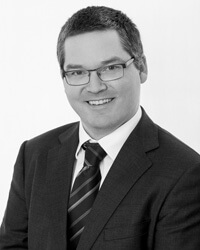 Partner

Email: info@tayscott.com.au
Phone: (02) 9265 2500
Fax: (02) 9265 2555

Firm service areas: Employment and Industrial Law

Offices: Sydney

Tim is a Partner in our Employment and Industrial Law Practice.
Tim was admitted to the Supreme Court of NSW and the High Court of Australia in 2004. He holds Bachelor of Arts and Bachelor of Laws degrees from the University of New South Wales.
For over a decade he has represented and advised employees, employers, unions and associations in fields as diverse as nursing, local government, manufacturing, electrical trades and police staff, in matters including:
Employment contracts;
General protections and adverse action;
Redundancy and redundancy pay;
Workplace discrimination and bullying;
Termination of employment;
Workplace disciplinary matters;
Workplace bargaining and enterprise agreements;
Industrial action;
Award variations and disputes;
Union Rules matters;
Union right of entry cases;
Judicial review;
Equal pay.
Tim has extensive experience both in Australia and the United Kingdom.
Tim has been a board member of the Australian Institute of Employment Rights, and a member of the Australian Government's Committee on Industrial Legislation.
Tim also has extensive policy experience in industrial and employment law, participating in many Senate and House of Representative Inquiries into proposed legislation, and appearing before Parliamentary Committees.
Before becoming a legal practitioner, Tim was an Associate to a Senior Presidential member of the Australian Industrial Relations Commission.
Tim is a member of the Law Society of NSW.
Qualifications:
Bachelor of Arts and Bachelor of Laws
Solicitor of the High Court of Australia
Solicitor of the Supreme Court of NSW
At Taylor & Scott " We Care For You."