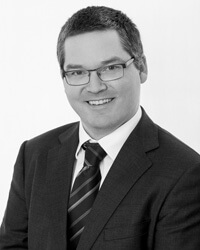 Partner

Email: info@tayscott.com.au
Phone: (02) 9265 2500
Fax: (02) 9265 2555

Firm service areas: Employment and Industrial Law

Offices: Sydney

Qualifications and Admissions
BA/LLB
Admitted to the Supreme Court of NSW
Admitted to the High Court of Australia
Expertise and Practice Areas
Employment Law
Industrial Law
Memberships and Industry Participation
Law Society of New South Wales
Member of Union Lawyers and Industrial Officers Association
Bio
Tim joined Taylor & Scott in 2014 with a wealth of experience in his respected fields both in Australia and the UK. Tim was promoted to Partner in 2016 and manages the Employment and Industrial Law Practice areas of the firm in Sydney.
For well over a decade, Tim has represented and advised employees, employers, unions and associations in fields as diverse as nursing, local government, manufacturing, electrical trades and police staff. Drawing on 15 years' experience in his chosen fields, he strongly believes in providing clients a balanced and practical view of where they stand and what their available options are. Tim does this by listening to his clients and applying his experiences to their case.
Often acting in matters for clients against Government regulators such as the Fair Work Ombudsman and the Australian Building and Construction Commission, Tim works on many cases including:
Underpayments
Adverse action / general protections
Unfair dismissal
Civil penalties – bringing court proceedings and defending against them
Union rules
Discrimination
Strategic employment and industrial advice for both employees and employers
For a number of years, Tim has been a member of various committees and boards for Unions and other employment law organisations. For these, he makes submissions to and has appeared before Senate and House of Representatives Committees, as well as many other Courts and Tribunals across most States and Territories.
Tim enjoys giving seminars and providing education to legal organisations and members of the public about policy and legal matters involving employment and industrial law.
"We want our clients to work with us not to litigate for the sake of litigating, but to put them in the best position they can be after they walk out the door. To do that, we want to give accurate, strategic advice so our clients can make the best decisions for themselves. But if there's a fight to be had, we'll be there."
Articles